***
FUERZABRUTA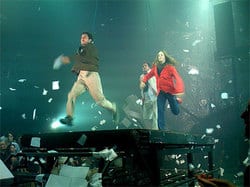 One of Stoppard's first big hits was Rosencratz and Guildenstern are Dead. It's become a classic for cool college drama jocks, a bit of de rigueur reading if they are not lucky enough to be in a production of the play. When I attended the Juilliard School of Drama back in the 1970s, my fellow classmates and I sat around one afternoon discussing the existentially hilarious Beckett-like back-and-forth of the play and making ourselves feel smart and grown-up in the process. When I went to the Daryl Roth Theatre at 20 Union Square East on 15th Street to see Fuerzabruta, the newest production from the Argentinian theatrical troupe that several seasons ago brought New York audiences the thrilling De La Guarda, I looked around at the mostly college-age theatre jocks standing around me (be warned: there are no seats) and felt a little like Rosencratz or Guildenstern myself as I tried to figure out why exactly I was there.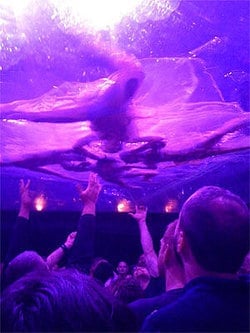 If, like me, you prefer a plush seat and an unbroken fourth wall when you are having a theatrical experience, then Fuerzabrata is not for you. If, however, you have the energy and openmindedness of a college drama jock, then you'll love this production. It's certainly the most kinetic piece of theatre you'll see this year. A good friend of mine, David Binder, is one of its producers and is the person who first told me this past summer about Black Watch and that I had to see it when it came to St. Ann's. But I'm just not sure what Fuerzabruta is about. Well, no, I take that back. It's about 70 intermissionless minutes and as close to a rave in Ibiza you'll ever get without paying for a roundtrip ticket on Iberia Airlines.
Jack Cole could have never imagined the choreographed chaos of such a theatrical happening. Fuerzabruta is filled with techno music and lots of Mylar, the latter of the clear variety used to create the pool of water that is lowered right over the audience's heads. We are asked to crane our necks and watch several neo-Esther Williamses frolic in it, as well as reach out and touch them. If you're wishing for a few neo-Mark Spitzes, you'll be disappointed. For some reason, the creators of Fuerzabruta decided not to include any of its male members, so to speak, in its pool sequence. That didn't dampen the enthusiasm of all those standing around me, who were already damp, come to think of it, with the water sprayed over us earlier in the evening.
RATING: T (out of 4 possible T's)
Tom Stoppard's Rock 'n' Roll, Bernard B. Jacobs Theatre, 242 West 45th St, New York. Tickets: 212.239.6200 / 800.432.7250 (outside NY).
Fuerzabruta, Daryl Roth Theatre, 101 East 15th Street at Union Square, New York. Tickets: 212.239.6200 or website.
Next up: a more detailed review of Rock 'n' Roll and reviews of Cyrano de Bergerac, Speech & Debate, Things We Want, and maybe a Q & A or two with some surprise guests.
Previous Review
On the Stage: Black Watch [tr]