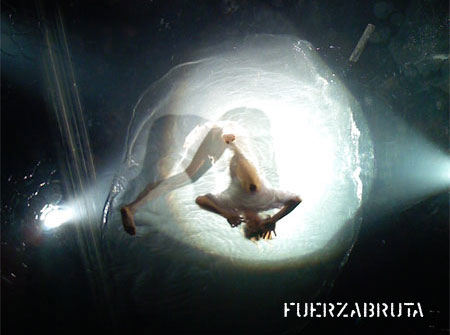 For those of you who didn't check in yesterday, I introduced a new guest blogger on Towleroad, who is here again today. Kevin Sessums, whom I interviewed on the site earlier this year when his memoir Mississippi Sissy was published, will now be doing theater reviews for us. Since we spoke, Mississippi Sissy has appeared on The New York Times bestseller list and was nominated for a Quill Award. Kevin was for 14 years a contributing editor of Vanity Fair magazine and for four years served in the same capacity for Allure magazine. Prior to that he was Executive Editor of Andy Warhol's Interview. This week Kevin is reviewing three new productions staged in New York, one yesterday and two today. I'm thrilled to welcome him. Yesterday, Kevin reviewed Black Watch. Today, he takes on Tom Stoppard and Fuerzabruta.
***
TOM STOPPARD'S ROCK 'N' ROLL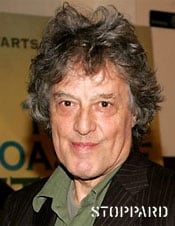 Another kind of war — of words and of politics and of the heart — is the subject of Tom Stoppard's Rock 'n' Roll, now in previews at the Bernard B. Jacobs Theatre on Broadway. It opens November 4th and I'll have a more detailed review next week. Suffice to say, it will be another decided thumbs up. My former boss at Vanity Fair, Tina Brown, hosted a benefit performance of the play for the London Library last week and asked me to join her. I run hot-and-cold on Stoppard's plays, which is a pretty good description, come to think of it, of the dramatic swings all his plays take as they go from the coldly analytical musings of the intellectuals who people so many of them to the heated emotions such musings are so often able to mine.
Rock 'n' Roll embodies better than any play he's ever written this yin-and-yang — more Eastern European than Eastern — of the Stoppardian heart-and-mind discourse. He even has two of his characters in Rock 'n' Roll argue about which of these body parts is the more important to the human condition. I've always been a bigger fan of his more grounded heartfelt plays – Arcadia, The Real Thing, The Invention of Love – than his more acrobatically cerebral ones – Jumpers, Travesties, the first play I saw on Broadway in 1974, and especially the 19th Century Russian triptych, The Coast of Utopia, which was last season's theatrical must-see.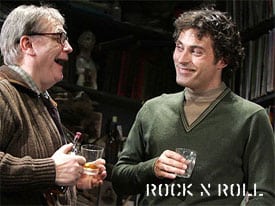 At the dinner party in a private room upstairs at Sardi's after the benefit performance of Rock 'n' Roll, Stoppard, who could not have been friendlier, was fretting to me about the length of Rock 'n' Roll, which runs close to three hours.
"Are you forgetting you had a play in New York last year that ran three nights?" I rather rudely asked him. He laughed off my rudeness.
"Good point there," he said. "New York audiences do seem to have an empathetic patience for my work. They've always been so kind to me." Regarding the difficulty — empathy aside — some find in following, at times, the stilted dialogue and rarified humor of his plays, I asked him if, in a form of dramatic alchemy, his characters can become even smarter than he is.
"You don't think I could write the plays I write without checking out wheelbarrows full of books from the London Library," he said, his own dialogue always appropriate to the occasion. "Of couse, it helps that I'm its president."
Continued after the jump, Fuerzabruta…
***
FUERZABRUTA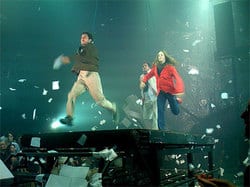 One of Stoppard's first big hits was Rosencratz and Guildenstern are Dead. It's become a classic for cool college drama jocks, a bit of de rigueur reading if they are not lucky enough to be in a production of the play. When I attended the Juilliard School of Drama back in the 1970s, my fellow classmates and I sat around one afternoon discussing the existentially hilarious Beckett-like back-and-forth of the play and making ourselves feel smart and grown-up in the process. When I went to the Daryl Roth Theatre at 20 Union Square East on 15th Street to see Fuerzabruta, the newest production from the Argentinian theatrical troupe that several seasons ago brought New York audiences the thrilling De La Guarda, I looked around at the mostly college-age theatre jocks standing around me (be warned: there are no seats) and felt a little like Rosencratz or Guildenstern myself as I tried to figure out why exactly I was there.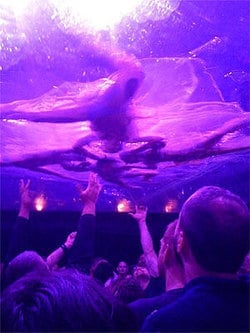 If, like me, you prefer a plush seat and an unbroken fourth wall when you are having a theatrical experience, then Fuerzabrata is not for you. If, however, you have the energy and openmindedness of a college drama jock, then you'll love this production. It's certainly the most kinetic piece of theatre you'll see this year. A good friend of mine, David Binder, is one of its producers and is the person who first told me this past summer about Black Watch and that I had to see it when it came to St. Ann's. But I'm just not sure what Fuerzabruta is about. Well, no, I take that back. It's about 70 intermissionless minutes and as close to a rave in Ibiza you'll ever get without paying for a roundtrip ticket on Iberia Airlines.
Jack Cole could have never imagined the choreographed chaos of such a theatrical happening. Fuerzabruta is filled with techno music and lots of Mylar, the latter of the clear variety used to create the pool of water that is lowered right over the audience's heads. We are asked to crane our necks and watch several neo-Esther Williamses frolic in it, as well as reach out and touch them. If you're wishing for a few neo-Mark Spitzes, you'll be disappointed. For some reason, the creators of Fuerzabruta decided not to include any of its male members, so to speak, in its pool sequence. That didn't dampen the enthusiasm of all those standing around me, who were already damp, come to think of it, with the water sprayed over us earlier in the evening.
RATING: T (out of 4 possible T's)
Tom Stoppard's Rock 'n' Roll, Bernard B. Jacobs Theatre, 242 West 45th St, New York. Tickets: 212.239.6200 / 800.432.7250 (outside NY).
Fuerzabruta, Daryl Roth Theatre, 101 East 15th Street at Union Square, New York. Tickets: 212.239.6200 or website.
Next up: a more detailed review of Rock 'n' Roll and reviews of Cyrano de Bergerac, Speech & Debate, Things We Want, and maybe a Q & A or two with some surprise guests.
Previous Review
On the Stage: Black Watch [tr]