A resolution to censure California Democrat Dianne Feinstein, submitted by progressives within the party last week, was killed before it even got to a vote, the HuffPost's Rick Jacobs reports: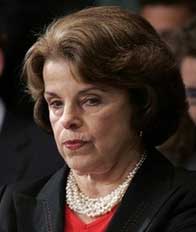 "When the resolution was brought up late in the session, the Party's senior advisor and long time chief spokesperson, Bob Mulholland, stood and shouted from the side of the room, 'Object, and object!'" There were other shouts from the room as committee members joined in. Committee Co-Chair John Hanna objected and then others objected and then, as if to make sure that we got the point, everyone who wanted to join the chorus of objections demanded that their objections be counted, too. It was a sort of pile on moment, in which one veto simply would not do. It all happened within about a minute."
The move to censure came following two dubious votes — one to confirm assumed torture-supporter attorney general nominee Michael Mukasey and the other to confirm racist bigot judge Leslie Southwick in Mississippi — and other less-than-left activity by Feinstein, including recent word that she supports granting immunity to telecom corporations that shared customer email and phone records with the federal government as part of the warrantless surveillance program.
According to Jacobs, because the motion to censure was submitted as a "late" resolution (within 10 days of the meeting), any member can kill it with a single objection.