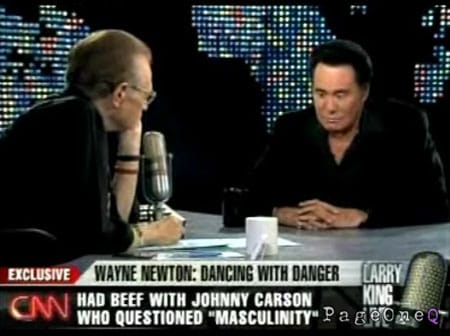 Recent Dancing with the Stars contestant and Vegas legend Wayne Newton told Larry King that his friendship with Johnny Carson was destroyed because of the late night talk show host's jokes implying that Newton was gay.
So, Newton paid him a visit to threaten him.
Said Newton to King: "'Mr. Carson,' I said, 'I don't know what friend of yours I've killed, I don't know what child of yours I've hurt, I don't know what food I've taken out of your mouth… but these jokes about me will stop, and they'll stop now. Or I will kick your ass.'… Johnny Carson was a mean-spirited human being. There are people he has hurt that people will never know about. And, for some reason, at some point, he decided to turn that kind of negative attention toward me, and I refused to have it."
Video on Newton's "beef" with Johnny Carson is over at PageOneQ.