Law enforcement officials in Oklahoma City charged Darrell Lynn Madden for the October murder of Steven Domer. The killing was apparently intended as an initiation into the United Aryan Brotherhood for Madden's friend Bradley Qualls, according to an affadavit filed in the case.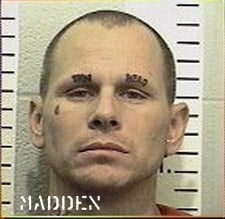 According to The Oklahoman, "Domer, 62, was last seen Oct. 26 at the car wash. His body was found a little more than a week later, dumped in a ravine in McClain County."
Madden has also been charged with the murder of Qualls, who died 10 days after Domer's disappearance. Qualls death was the result of a disagreement, according to police.
The AP reports: "Domer, who friends said was gay, was last seen Oct. 26 near a car wash, according to court papers. A witness said Domer had been talking to two men who matched the description of Madden and Qualls.
Domer's car was found the next day near Madden's home, according to an affidavit from Oklahoma City police Detective Kenneth Whitebird. Madden's roommate told police he heard Madden and another man describing an encounter with someone who 'wouldn't even fight back,' while a woman Madden had dated said she overheard him and Qualls talk about killing a man."
A doorman at Angles, located near the carwash where Domer disappeared told the Oklahoman, "This guy was motivated by hate — pure and simply. The fact is it's a hate crime, and it should be classified as a hate crime. It's just like if he was murdered for his race or his religion."
According to prosecutors, " Madden will not face a hate crime charge because sexual orientation is not covered under Oklahoma law."
We Don't Know Why They Killed Him [the oklahoman]
Washington man faces second murder charge in death of Edmond resident [ap via tulsaworld]