This Sunday, on 60 Minutes, Lesley Stahl will look into the U.S. military's "Don't Ask, Don't Tell" policy, offering evidence in the form of Army Sgt. Darren Manzella that the armed forces look the other way during wartime, refusing to discharge troops even in the face of "graphic proof" that they are gay.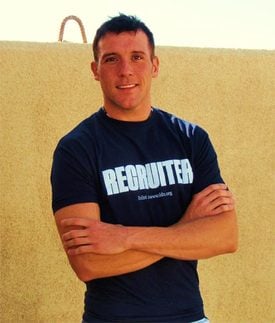 According to CBS: "Manzella, a medic who served in Iraq for a year, currently serves as medical liaison for the 1st Cavalry Division stationed in Kuwait, where he says he is 'out' to his entire chain of command, including a three-star general. After leaving Iraq, he started receiving anonymous emails warning him about his openness that suggested he was being watched, so he went to his commander to head off an investigation he felt was coming. 'I didn't know how else to do it,' he tells Stahl, acknowledging that he initiated an investigation of himself by violating the policy. 'I felt more comfortable being the one to say, 'This is what is real," Manzella says. He then says his commander reported him, as he was obliged to do, and then 'I had to go see my battalion commander, who read me my rights,' he says. He turned over pictures of him and his boyfriend, including video of a passionate kiss, to aid the investigation. But to his surprise, 'I was told to go back to work. There was no evidence of homosexuality,' says Manzella. "You're not gay," he says his superiors told him. This response confused him and, he says, the closest a superior officer came to addressing his sexuality was to say 'I don't care if you're gay or not.'"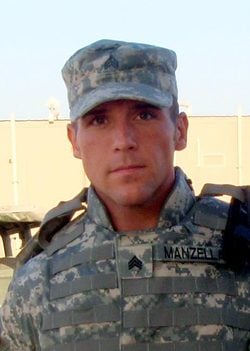 The Servicemen's Legal Defense Network commented on the CBS piece. Said SLDN executive director Aubrey Sarvis: "Sergeant Manzella's story illustrates the arbitrary and uneven enforcement of 'Don't Ask, Don't Tell'. Many commands, like Manzella's, recognize that their lesbian and gay troops are instrumental in the work of defending our country. Those commanders, who want to do the right thing and retain good troops, should not have their hands tied by this unfair law. Our nation's commitment to fairness and civil liberties demands an end to this law, and our national security interests are best served by repealing it."
According to SLDN, "Sergeant Manzella joined the Army in April 2002 and deployed to Iraq, in support of Operation Iraqi Freedom II, in March of 2004. He provided medical coverage during more than one hundred 12-hour patrols on the streets of Baghdad. While under fire, Manzella cared for Iraqi National Guardsmen, Iraqi civilians and his fellow service members, earning him the Combat Medical Badge, a swift promotion and several other awards honoring his courage and duty to service. He returned for a second tour of duty in the Middle East in 2006 and is currently stationed in Kuwait."
60 Minutes airs on Sunday at 7 pm EST.
Military Soft On Don't Ask, Don't Tell? [cbs news]
CBS Newsmagazine 60 Minutes to Feature Out, Active Duty Army Sergeant [sldn]