Blake Lewis made a trip to the tattoo parlor this week, brought to you by TMZ. Coincidentally, first week sales of Idol winner Jordin Sparks' debut with the lead single "Tattoo" were the lowest of any Idol winner. I think Blake may handily outdo her.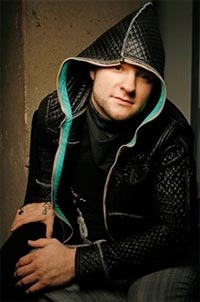 Probably the most surprising thing about the Blake Lewis Audio Day Dream album, released today, is how little he has utilized the "human beatbox" style that took him to runner-up in last year's American Idol. Sure, it's sprinkled with that, but there are more than a few 80's-inspired pop-synth ballads on it which I have to admit I've got a weakness for…
Lewis told MTV News in November: "It's my new genre I made up. I call it 2080, because it's a mix of all the great pop music that's inspired me. I worked with so many amazing people on this record, and the title came from this concept I came up with for the album. I wanted to make a hip-hop mixtape or a great electronic mix — just one mix, start to finish, that takes you on a journey through metal, drum-and-bass with scratching on it to Michael Jackson pop into Erasure into Depeche Mode into some dub reggae. This album goes everywhere, and it was an amazing process to work on it. There's a song on the record that's [the Police's] 'Every Breath You Take' meets [1984 film] 'The NeverEnding Story.' …It's hard to describe, but you know how when you open Rorschach inkblot tests, how they have two different sides? It's going to be like that. There's going to be, like, ink and water, and different effects behind me that come in."
I'm not sure that's how I'd describe it, but it's certainly less of a new genre than a heavily-produced piece of listenable pop. If you can remember his lackluster performance in the Idol finale which was blamed mostly on having to sing a saccharine ballad way out of his range, it's interesting to hear a progression on that front. According to the AP, Lewis co-wrote all but one song on the album.
You can listen to the album here.
Blake Lewis makes CD debut [ap]
Tats Off to Blake Lewis [tmz]
You may have missed…
American Idol Runner-Up Blake Lewis: I'm Not Gay [tr]
Blake Lewis and Chris Richardson, Together Forever [tr]
American Idol's Blake Lewis Loses His Shirt [tr]
Idol's Chris Richardson and Blake Lewis Get Cozy [tr]