Peter LaBarbera, the President of the right-wing religious group Americans for Truth About Homosexuality, plans to hold a screening for the National Press Club on Wednesday in an effort to embarrass House Speaker Nancy Pelosi. The screening will feature footage taken by the group at the Folsom Street Fair, the annual leather/fetish event held annually in San Francisco.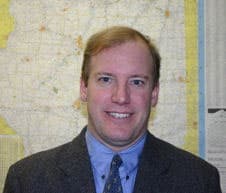 You may remember the controversy drummed up by right wing religious groups over Miller's sponsorship of the event after it was discovered that organizers had created a parody of "The Last Supper" to market the Fair.
Pam Spaulding reports: "LaBarbera plans to broadcast his unedited fetish footage collection to journalists in an attempt to 'educate others about liberal tolerance run amok in San Francisco,' and calls for Pelosi to 'publicly condemn the Folsom event and to use her considerable power to help stop similar affronts to public decency.'
AFTAH's letter to Pelosi, AFTER THE JUMP…
***TEXT OF LETTER TO HOUSE SPEAKER NANCY PELOSI***
Americans For Truth About Homosexuality
December 3, 2007
Via Courier
Ms. Nancy Pelosi, Speaker
House of Representatives
United States Capitol Building
Washington, D.C. 20510
Dear Madam Speaker:
Because you frequently extol San Francisco's values to the rest of America, we are compelled to call your attention to what actually takes place at the Folsom Street Fair and other egregious and offensive "gay pride" celebrations in your Congressional District.
I was in San Francisco with a videographer on Sunday, September 30 and verified but a small segment of the most immoral and outrageous sexual behavior that ever disgraced the streets of any American city. On Wednesday, December 5, at 1:00 p.m. at the National Press Club in Washington, we will release the un-retouched DVD of the public debauchery which we videotaped during the city's Folsom Street Fair just two months ago. Included is raw and unedited verification of:
• Large numbers of men walking on public streets either fully or partially naked;
• Groups of men engaged in orgies on the public street, including acts of oral sex and mutual masturbation, as crowds waked by and snapped pictures.
• Fully exposed men "greeting" other men by grasping other men's genitals and massaging them in full view of passers-by. The police stood by and did nothing;
• A man sitting on the curb in broad daylight masturbating as crowds of people gawked and took pictures (he even posed for photos with others as he sat there naked and aroused);
• Theatrically dramatic sadomasochistic whippings and floggings – drawing blood and turning the willing "victim's" skin bright red;
• Abundant flaunting of female nudity and real or simulated sexual acts;
• "Master-slave relationships" in which one man or women would "walk" their subservient "slave" with a dog-collar and chain. Others imitated animals (dogs and ponies) as yet another "fetish" on display: we talked to one woman whose mouth was bridled like a horse;
• Blatant anti-Christian bigotry in the form of "The Sisters of Perpetual Indulgence," men dressed in drag mocking Catholic nuns, greeting incoming attendees at Folsom; one male "Sister" wore a shirt that read "Bottom for Jesus" ("bottom" refers to his position in anal sex); entrance stickers featured a twisted, S&M-fetish version of DaVinci's "Last Supper" painting;
• Young children with their parents witnessing this perverted and revolting spectacle.
Additionally, Madam Speaker, we have been told that you were presented with an opportunity to condemn this heinous event and the blasphemous artwork used to promote it. Folsom Street Fair's promotional poster featured a drawing mocking Leonardo DaVinci's classic "Last Supper" painting by substituting sexual fetishists with their "sex toys" for Jesus Christ and his twelve disciples. You refused to denounce both. In fact, we understand that you maintained that Christianity would not be harmed by the poster. Were Judaism, Islam or any other religion so offensively mocked and affronted, would you have remained silent? We doubt it.
As a respectable lady and practicing Catholic, we assume that you have not been present at the Folsom Street Fair to witness the rampant public nudity, street orgies and perverse sexual extravagances that are allowed to occur there, on San Francisco's blocked-off city streets, without police intervention. We give you the benefit of doubt that you are not fully aware of what actually takes place.
Nevertheless, it's time for San Francisco's cover-up to end. Decent Americans can no longer remain silent about this outrageous, licentious and egregious conduct and illegal, flaunting behavior that insults basic decency. Radical sexual activists, pandering politicians and complicit media can no longer disguise and misrepresent reality. The truth is out.
We are, of course, aware that both you and San Francisco city government pride yourselves in the city's (misdefined) reputation for "tolerance." Paradoxically, it has been widely reported that when Christian, military and other advocates of traditional values voice their views (such as the 2006 "BattleCry" Christian youth rally), they have been protested, threatened, condemned by city officials, and even assaulted by unrestrained opponents. Where was San Francisco's much-vaunted "tolerance" on those occasions?
In your October 6 speech before the homosexual lobby group Human Rights Campaign (portions of which we will show on Wednesday, December 5th at the National Press Club), you said:
"People always say it is easy for me … to be out front on these issues because San Francisco is so tolerant. Tolerant? It's not about tolerance. It's about respect. It's about the respect we have for each other. It's about the pride we take in our community. That sentiment is now spreading across America."
Should the profane, disgusting and bigoted behaviors we witnessed in your district in San Francisco be "tolerated" by the rest of America? How much tolerance is too much tolerance? Are you proud of the Folsom event? Should the rest of America tolerate public nudity and homosexual orgies on their city streets? Where was the "respect" for people of faith who saw their Lord blasphemed by Folsom organizers, working with the grotesquely anti-Christian Sisters of Perpetual Indulgence (which was a major beneficiary of Folsom)? Notwithstanding your pandering before the partisan HRC audience of homosexual advocates, your assertions about San Francisco and failure to condemn the extreme and public perversions at Folsom impugn your veracity as a credible national leader.
After viewing what undeniably took place at a public, outdoor event in your Congressional District, as characterized above, we hope you will publicly disavow such conduct – including the "Sisters'" bigoted mocking of Christianity. As Speaker of the U.S. House of Representatives — for all Americans — you have a national responsibility to condemn these public perversions and use your great influence to stop them from happening in the future in San Francisco. We are calling upon you to muster the necessary courage to take the leadership to which you were elected.
For more information about Americans for Truth's coverage of the Folsom Street Fair, please refer to our website at www.AmericansForTruth.org or contact us by telephone: 630-717-7631. I will be pleased to be of whatever assistance possible in accurately clarifying this important matter.
Most sincerely,
Peter LaBarbera
President, Americans For Truth