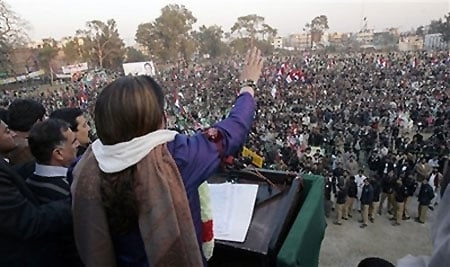 Two-time former Pakistani Prime Minister and current opposition leader Benazir Bhutto was assassinated Thursday after an attacker shot her in the neck and chest before blowing himself up and killing at least 20 other people at the end of an election rally in Rawalpindi, Pakistan where Bhutto (pictured here, at the rally) spoke.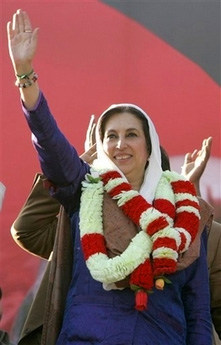 The AP reports: "Bhutto's supporters erupted in anger and grief after her death, attacking police and burning tires and election campaign posters in several cities. At the hospital where she died, some smashed glass and wailed, chanting slogans against President Pervez Musharraf."
Pakistan was set to have elections on January 8, but all was thrown into doubt today as the nation plunged into chaos amid anger, mourning, and security fears.
According to the BBC, "It was the second suicide attack against [Bhutto] in recent months and came amid a wave of bombings targeting security and government officials. Nawaz Sharif, also a former prime minister and a political rival, said her death was a tragedy for 'the entire nation'. 'It is not a sad day, it is [the] darkest, gloomiest day in the history of this country,' he said, speaking at the hospital where she was taken. The United Nations Security Council is to meet for emergency consultations shortly to discuss the situation in Pakistan after the killing…Mr Sharif said there had been a 'serious lapse in security' by the government. But an old friend of Ms Bhutto, Salman Tassir, told the BBC World Service he did not think criticism should be directed at the government. 'There have been suicide attacks on Gen Musharraf also,' he told Newshour. '… I mean it is extremism and the fanatics who are to blame.'"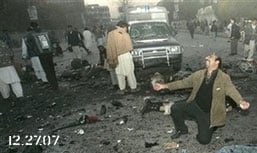 AFP: "There have been more than 40 suicide attacks in Pakistan this year that have left at least 770 people dead."
The Times Online reports: "The main suspects in Benazir Bhutto's assassination are the Pakistani and foreign Islamist militants who saw her as a heretic and an American stooge and had repeatedly threatened to kill her. But fingers will also be pointed at Inter-Services Intelligence, the agency that has had close ties to the Islamists since the 1970s and has been used by successive Pakistani leaders to suppress political opposition."
AP via Guardian: Bullets Cut Short a Life of Epic Sweep: "Bhutto's father was hanged and a brother was shot to death. She had risen to become the Muslim world's first female prime minister, only to lose office and flee Pakistan for most of a decade in the face of accusations she was corrupt. And when, finally, she returned in October to marshal the opposition against President Pervez Musharraf, her homecoming parade in Karachi was targeted by a suicide attacker. More than 140 people, died, but the 54-year-old Bhutto escaped injury and threw herself into the campaign…"
President Bush, from his ranch in Texas, called the assassination "a cowardly act by murderous extremists" and called on the country to "honor Benazir Bhutto's memory by continuing with the democratic process for which she so bravely gave her life."
Who killed Benazir Bhutto? The main suspects [times online]
Former premier Benazir Bhutto assassinated in Pakistan [afp]
Pakistan's Bhutto killed in attack [ap]