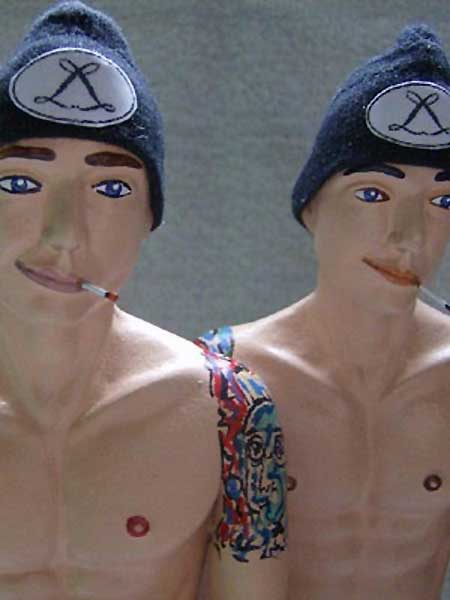 If only it talked and said, "Screw you, Putin."
A NSFW ceramic doll with a body based on Russian photographer and artist Slava Mogutin and a face inspired by "Edino Fonseca, a notoriously homophobic Brazilian priest and politician who proposed using taxpayers' money to establish clinics to cure gay people from their homosexuality," is on sale at the Leslie Lohman Art Gallery in New York, according to Mogutin, who writes about it on his blog (NSFW).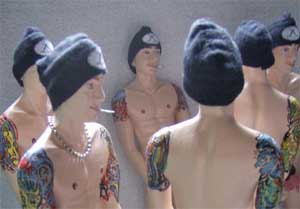 The clay figure was created by New York-based Brazilian sculptor Fernando Carpaneda and, according to Mogutin, "is a tribute to the president of The Leslie Lohman Gay Art Foundation, Charles Leslie."
Mogutin adds: "The doll is featured in four models: Skinhead Charlie, Priest Charlie, Arab Charlie and Jewish Charlie. Priest Charlie is dressed in a Gothic priest's robe, like the one used by Marcelo Rossi, a Brazilian Catholic icon. Arab & Jewish Charlie are made in tribute to the president of Iran, Mahmoud Ahmadinejad, the mass murderer of gay people in his country. The doll is also dedicated to the Pope, one of the most homophobic religious leaders in history. Charlie the Gay Doll comes with two penis options: uncircumcised flaccid or erect. The doll's penis was based on the artist's own."
Mogutin's body was chosen for the doll because of Russian President Vladimir Putin's notorious homophobia.
For those of you wanting an alternative to traditional Russian nesting dolls, the limited-edition Charlie doll is 12-inches (tall!) and $300.
I'VE TURNED INTO A DOLL!!! [slava mogutin] (site NSFW)
The Essential Leslie/Lohman Gay Art Foundation (parts of site also NSFW)
Fernando Carpaneda [sculptor – official site]
You may have missed…
Time: Russian President Vladimir Putin "Person of the Year" [tr]