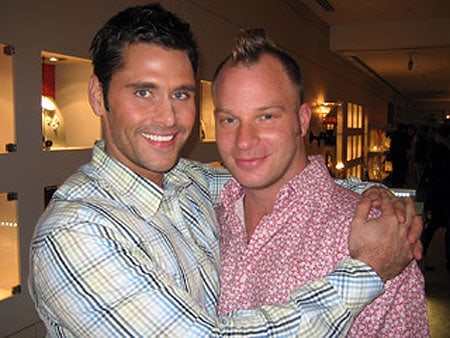 Bravo's reality shows are cross-breeding. Project Runway's Jack Mackenroth and Top Chef's Dale Levitski are dating, according to Bravo's OutZone.
Jack told them: "It's very baby steps. I really like him a lot. And geography is a bit of an issue, but we'll see where it goes. I like him a lot. I assume he likes me a lot. Unless he's lying…(laughter)… He's adorable. I like keeping it incestual, keep it in the Bravo family."
Said Dale: "Yeah, we randomly met over Myspace. And then we bumped into each other at the OUT100 party and clicked. He's hilarious. We're just gonna roll with it and see what happens. And he's cute as %&#@. We have the same sense of humor. We giggle a lot, and you know, anytime you end up going through the Bravo-reality-show…we just looked at each other and said, 'yeah…'"
To be completely Bravo cliché about it, let's watch what happens and hope they can make it work, otherwise Dale may have to pack up his knives and go.