At 10:30 am EST, GOP Presidential candidate Mitt Romney will deliver a speech at the George Bush Presidential Library in Texas on faith in America and how religion should affect the presidency. The speech is being seen as a high-profile gamble by the Mormon candidate to shore up evangelical and right-wing religious votes when some polls show Mike Huckabee pulling ahead. The Mitt-flopper will also be webcasting it on his site.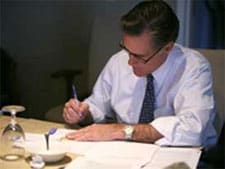 Here are a few excerpts:
"Freedom requires religion just as religion requires freedom. Freedom opens the windows of the soul so that man can discover his most profound beliefs and commune with God. Freedom and religion endure together, or perish alone."
"When I place my hand on the Bible and take the oath of office, that oath becomes my highest promise to God. If I am fortunate to become your president, I will serve no one religion, no one group, no one cause, and no one interest. A president must serve only the common cause of the people of the United States."
"There are some who would have a presidential candidate describe and explain his church's distinctive doctrines. To do so would enable the very religious test the founders prohibited in the constitution. No candidate should become the spokesman for his faith. For if he becomes president he will need the prayers of the people of all faiths."
More over at Politico…
UPDATE: Full TEXT of Romney's speech here.
Related
Mitt Romney: I'm the Leading Marriage Protector [tr]
Larry Craig: Romney Threw Me Under Campaign Bus, Ran Over Me [tr]
Log Cabin Republicans Avoid Gay Rights in New Mitt Romney Ad [tr]
Romney Slams Democrats' Support of Gay-Themed Children's Books [tr]
Mitt Romney Attacks Same-Sex Marriage in Iowa Radio Ad [tr]