While we're on the topic of John Edwards, the New Hampshire Freedom to Marry Coalition has endorsed him for President.
The group said, in a press release: "We took a long look at all of the candidates, we met with many of them, and in our judgment, John Edwards's sincere commitment to battling discrimination and ensuring equal rights for every American is unparalleled," the group's executive director, state representative Mo Baxley, said in the release. "He and his wonderful wife, Elizabeth, have spent their entire lives fighting for those without a voice and standing up for what is right. John Edwards will be the kind of president we can trust to stand up for everyday Americans."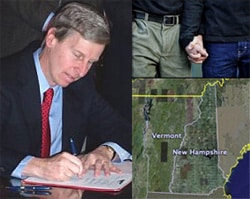 Civil Unions in the state take effect one week before the state's primary making them a potential wedge issue.
AP: "Republicans who decide to run with the issue in hopes of energizing their GOP base could also be seen as gay-bashers and alienate the state's political independents. There are a lot of those in New Hampshire, and they can choose either party's ballot in the Jan. 8 primary, exactly one week after the new civil unions law takes effect. The law won't come in quietly. 'We hear reports of couples planning ceremonies for 12:01 on New Year's Eve. I'm certain this will be something that is in the news,' said Fergus Cullen, chairman of the New Hampshire Republican Party. 'It will remind moderates and independents in New Hampshire that they didn't plan on civil unions and same-sex marriage when they voted for Democrats last year…There are lots of people who are tolerant of other lifestyles who nonetheless don't believe in same-sex marriage and think that Democrats in New Hampshire made a mistake when they allowed that this year."
Still, the new civil union laws apparently haven't affected Governor John Lynch's popularity: "On the other hand, when Democratic Gov. John Lynch signed the law in May, some conservatives predicted he would take a hit in the polls. It didn't happen, and in July the second-term governor still had 76 percent support, according to a University of New Hampshire poll for CNN and WMUR-TV."