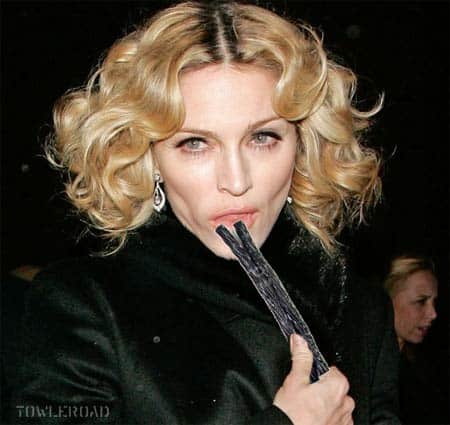 Apparently Tootsie Roll, Gummi Bear and Goobers all had trademark issues.
Anyway, Billboard reports the album will be released in late April.
Drowned Madonna got the scoop on the recent listening party Madonna held in New York:
"Madonna came at 5:30pm with Ingrid Casares and Guy Oseary, wearing all black – blouse, skirt, and boots. Liz Rosenberg was there of course, she is the one who organized the party and set up the theme. Madonna sat on a couch with Liz Rosenberg and Ingrid Casares as the tracks played. Madonna dictated what tracks would be played and specifically said they were not being played in any order. She said she had just finished mixing the album a few days ago. Madonna played "Candyshop," then "4 Minutes To Save The World" first. She then had a vote on which one would be the first single. She said many times throughout the session that the first single has yet ot be decided. She is all about "Candy Shop" and looked upset and surprised there was a better reaction to "4 Minutes To Save The World". "4 Minutes To Save The World" is like a dancey "Hey You". It goes something like "Hey girl, save the world…". "The Beat Goes On" sounds NOTHING like the demo we heard. As we told you, it features Kanyes West. Madonna said it's not a single. Madonna made the song out to seem like a joke. "Miles Away" and "The Devil Wouldn't Recognize You" has then been played. Many times she would not announce the names of songs before playing them but there were sogns with the following main hooks: "She's Not Me" , "Feel It In My Heartbeat" and "Dance Tonight" . There is also a song which Madonna called a "psychological mind f*ck" which questioned who was the master or slave, if youre walking the dog or the dogs walking you. Finally, Madonna said there are thirteen tracks, but she only played 10 songs."
UPDATE: Latest reports are that Billboard and Sirius DJ Larry Flick were fooled into believing the title of the album by a fake album cover bearing the name "Licorice".
Previously
Debbie Harry Accuses Madonna of Identity Theft [tr]
Madonna Always the Bridesmaid in "The Beat Goes On" [tr]