NJ Governor Corzine signs death penalty ban.

Des Moines Register endorses Hillary Clinton and John McCain.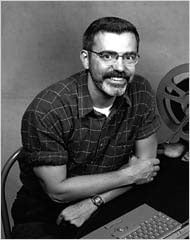 The NYT takes a look at the life of gay historian Allan Bérubé, and his well-known book Coming Out Under Fire: "The book sprang from a box of letters. One day in the 1970s, a friend of one of Mr. Bérubé's neighbors salvaged from a Dumpster a cache of correspondence exchanged by a dozen gay G.I.'s during the war. The men, who had met at an Army base in Missouri, were posted to different spots, but they continued to write — in particular about what it was like to be gay wherever they had fetched up. The letters found their way to Mr. Bérubé. 'I sorted them out and had a good cry,' he told the University of Chicago alumni magazine in 1997. 'It really captured my heart and raised a lot of questions, so I started doing research.'"

Bimbo Curse: Dallas Cowboys QB Tony Romo hit with worst game in ages as Jessica Simpson appears at game wearing his jersey. It was the first time in three years the Cowboys haven't scored a touchdown, losing to the inferior Philadelphia Eagles. According to People, "The 27-year-old Pro-Bowler ended the game with a quarterback rating of just 22.2 – that's the worst ever in his entire career. (In comparison, his average rating this year is over 100.) His previous low? Last December, when then-girlfriend Carrie Underwood was in the stands."

Magazine collector aims to preserve archive of Thailand's gay history.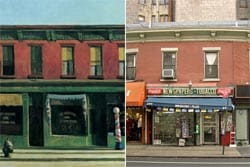 Early Sunday Morning: Greenwich Village group tries to preserve Edward Hopper's Big Apple landmarks.

PrideWorks conference offers beacon of hope for isolated gay kids: "This was the ninth year of the PrideWorks gathering, which is put on by the Hudson Valley chapter of the Gay Lesbian and Straight Education Network. The conference is sponsored by numerous community groups, including a local Merrill Lynch office, the Westchester-Putnam School Boards Association, the Westchester-East Putnam Region PTA and a state senator, Suzi Oppenheimer, a Democrat from Mamaroneck. In the beginning, in 1999, there were no students, just 125 adults, mostly educators who worked with gay children. This year, there were about 200 adults along with 300 boys and girls. Some, like Michael, attended with their parents. More arrived in school buses with their Gay Straight Alliance clubs."

Posh Spice skin pouch horrifies onlookers.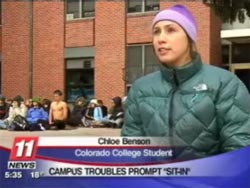 Colorado College students stage bitterly cold day-long sit-in to protest homophobic and racist incidents on campus: "The most recent events include anti-gay graffiti on several dorm room doors. Students say they got together to organize the event to show that they won't tolerate this type of actions on their campus or in their community. Students say this isn't in response to any one event, but a culmination of events over a period of time." (video)

YMCA lifeguard in the UK punches lesbian after making homophobic remark: "Luke Rawcliffe, 18, of Rixton Close, Thornton, pleaded guilty to assaulting Louise Raycroft. Pam Smith, prosecuting, said Ms Raycroft was walking through the bus station with her female partner when they were approached by a group of men. Rawcliffe called Miss Raycroft an inappropriate word and without any provocation punched her on the forehead. She was knocked to the floor and hit her head…The defence added that there was an altercation with the two women and one swung out at a friend of Rawcliffe's. Rawcliffe, who had been drinking, then hit the woman on the head."

Flyer: Britney Spears scores with "Piece of Me" video all about how the paparazzi chases that mess around. Write what you know.

Oldest human being dies at 116.