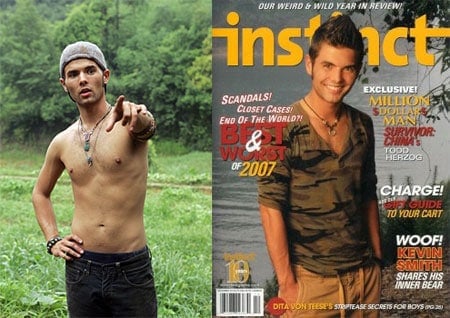 Did Instinct know the score last month or not? SPOILER after the jump…
On Sunday night, Todd Herzog became the second openly gay man to win a season of Survivor in the show's 15th season, which took place in China.
Last month we questioned how Instinct magazine had the prescience to declare Herzog "Million Dollar Man" on its December cover. Turns out, they may have known a thing or two but didn't spill the beans. Herzog did not disclose in the magazine's interview whether he had won the million or not, an admission that could have cost him the prize money.
Hunky James (below) won the $100,000 Survivor fan favorite award, and Mark Burnett announced that he was going to give lunch lady Denise $50,000 to get her life back on track because she'd lost her job ecause of the show.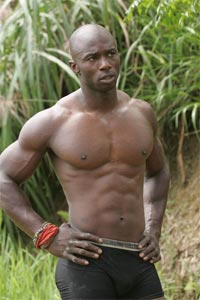 Reality Blurred reports: "The saddest part of the reunion was not when lunch lady Denise explained her mullet (which had to do with gender roles, and her desire to retain her femininity for her husband despite needing short hair for her job), but when she revealed that she lost her job because of her newfound fame. 'They didn't give me my job back,' Denise said, so she's 'a janitor now. … I miss dinner with my family. … I'm missing out on a lot more than I'd originally planned on doing.' That's because her bosses 'said it'd be too distracting' for her to work in the lunchroom because the kids are so excited to see her."
Congratulations to Herzog, whose "devious" ways seem to have taken him far. Let's hope he pays his taxes on the winnings and doesn't end up in the clink like Richard Hatch.
Related…
Did Instinct Magazine Spoil Survivor: China? [tr]
Survivor: China Shows Off its Skin [tr]