In a lengthy interview with Outsports, Martina Navratilova says she believes she has lost over $10 million in endorsement deals because of openness about her sexuality, but doesn't know why there are no openly gay men in professional tennis: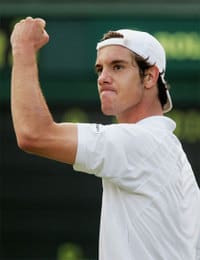 "I have no idea. I don't personally know any who are gay, because none have come out to me. Honest to God. I have suspicions, but I don't know of one who's definitely gay. I read that letter to Tennis magazine [in 1994] from an anonymous male player who said 'thank you because we're not all as brave as you are,' but I don't know who they are. But I don't know why. It can't be because they're all worried about endorsements, because most of them don't get any anyway. And now, perhaps they'd get one because they are gay. It's funny. I understand it in team sports because it can become a negative if the coach or the front office is homophobic and you might not get to play; let alone that your opponents might come after you. But in tennis, nobody can stop you from playing because of your sexuality or if someone doesn't like you. If your ranking is good enough, you get to play. It's very simple. So I don't know why none have come out."
Maybe the $10 million has something to do with it.
I've chosen a photo of Frenchman Richard Gasquet to go with this post not because the player has said he's gay but because he's felt the need to deny it — twice.
Martina Navratilova on the AARP and drugs and gays in tennis [outsports]
You may have missed…
Tennis #8 Richard Gasquet: Nope, Still Not Gay [tr]
Wimbledon Semi-finalist Richard Gasquet: It's Obvious I'm Not Gay [tr]