Pink and what it stands for is apparently a very threatening color to some men who feel the need to take insecurity about their masculinity out on others. In Orange County, Florida, Aundre Hill was arrested after he allegedly beat his 7-year-old son for applying pink nail polish.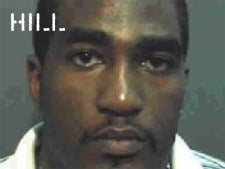 "Aundre Jermaine Hill, 25, was arrested on Saturday at about 5:19 p.m. after sheriff's deputies responded to a home in reference to a call saying that a boy was discovered with bruises on his body. Orange County sheriff's deputies said the boy's mother was bathing him when she noticed the markings on the boy. Investigators said it appeared the boy was beaten with a belt and hands on his buttocks, arms, temple and legs. Hill was located, arrested and transported to the Orange County Jail. He later bonded out of jail."
Pink has been in the news quite a bit lately. In September I posted a story about the South Carolina prison system and their use of pink jumpsuits to mark prisoners punished for sexual misconduct. Inmates forced to wear the suit complained because they felt it made them a target for assault. Apparently in Florida this applies to small chidren and nail polish as well. You may also remember the incident in early September where a Nova Scotia boy was bullied after wearing a pink T-shirt to school and his classmates stood up for him in solidarity.
Police: Man Beat Boy For Putting Pink Fingernail Polish On Nails [tr]