NYT nails Congress for failure to pass Matthew Shepard Hate Crimes act.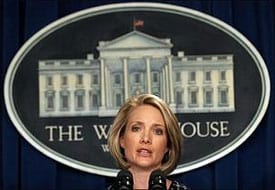 White House spokeswoman Dana Perino admits she didn't know what the Cuban Missile Crisis was: "I was panicked a bit because I really don't know about . . . the Cuban Missile Crisis…It had to do with Cuba and missiles, I'm pretty sure."

Snubbed by Barbara Walters: Larry Birkhead not as fascinating as he thought.

New York City remembers pioneering gay rights activist Bob Kohler: " With candles and signs held high, and with pill bottles and ceramic pots filled with some of Mr. Kohler's cremated remains, dozens of his friends and admirers marched through the streets, chanting to the beat of a drummer, stories of Mr. Kohler's courage in more than six decades of activism spilling from their lips. Some cried as they stepped down West 13th Street, Seventh Avenue and Christopher Street to Sheridan Square, ending up at the Hudson River piers, a refuge for many gay youths in the area. 'Till the very end he struggled for us, all of us,' said Jennifer Flynn, 36, a friend and member of a group of mostly lesbian activists who helped to care for Mr. Kohler as he battled cancer in his final days. 'He could have lived a comfortable life somewhere. He could have ignored everyone.'"

Washington state gay rights leaders expect to see more advances in the coming legislative session: "Advocates say they'll push for expanded rights in areas such as property, retirement and pension benefits in the 2008 session."

Jude Law gets a birthday kiss from Jonny Miller.

Mexico City grants gay prisoners conjugal visits.

Missionaries shot dead at training center before gunman shoots four more at New Life Church, where Ted Haggard once preached: "A gunman in a black trench coat and a high-powered rifle entered the church's main foyer about 1 p.m. and began shooting, according to the source at the church, who spoke to The Associated Press on condition of anonymity because the police department had asked that it release all information. The church's 11 a.m. service had recently ended, and hundreds of people were milling about when the gunman opened fire. Nearby were parents picking up their children from the nursery. The gunman was killed by a member of the church's armed security staff, the source said. Four people were shot, and the source did not know whether the shooter was one of the four. A SWAT team was searching the building for an explosive device, but the source could not confirm any details."

NYT: The 53 places to go in 2008, and the 70 best ideas of 2007.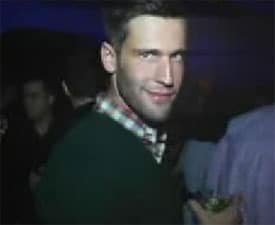 Lance Bass' ex Pedro Andrade has a new gig as a host for LXTV: "I just found my spot, and I'll be right here if you need me."

Anti-gay Scout leader arrested for molesting young boys: "Mr. Evans sued the city in his role as a leader of the Sea Scouts, an affiliate program of the Boy Scouts. The city, after providing free berthing for a Sea Scouts boat for 60 years, said in 1998 that a Boy Scout policy barring gay scouts and atheists violated Berkeley's rules against discrimination. The city said the Scouts would have to leave the berth or pay $500 a month rent. Mr. Evans sued for discrimination and for violating the Scouts' First Amendment rights. The California Supreme Court ruled in favor of Berkeley."

Israel recognizes same-sex adoptions from overseas: "This is another step toward equality and the abolition of discrimination toward same-sex couples. The time has come for the state to recognize these couples, just as it recognizes the adoptions of heterosexual couples."