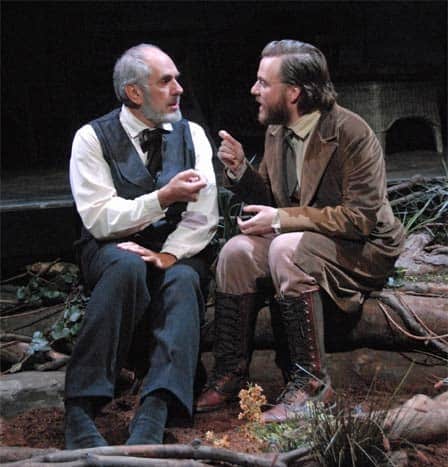 Please welcome Kevin Sessums, who last reviewed Make Me A Song, The Music of William Finn and The 25th Annual Putnam County Spelling Bee for Towleroad. You can also catch up with Kevin at his own blog at MississippiSissy.com.
Now that the stagehand strike is over, all the theatre mavens I've encountered lately are kvelling about two current Broadway dramas, The Seafarer and August: Osage County. The word of mouth on both is deafening and I'll be reviewing each of those plays next week after seeing them this weekend.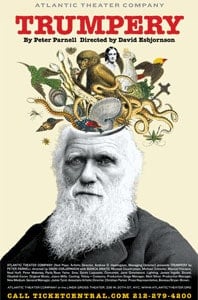 But this past weekend I caught the latest production at The Atlantic Theatre Company off-Broadway at 336 West 20th Street that has been a bit under the advance-word radar and, as such, caught me completely off-guard. I found it devastating and dynamic – two words I would never have thought I would ever use to describe a play about Charles Darwin and his scientific discoveries. But playwright Peter Parnell has achieved the miraculous with Trumpery — he has infused the story of Darwin's heady discoveries regarding the ugly physical savagery of natural selection with the generous emotional beauty of the human heart.
Director David Esbjornson, who did such fine work with Edward Albee's The Goat, or how is Sylvia? a few seasons back and is the Artistic Director of Seattle Reperatory Theatre, has likewise orchestrated the production with a nuanced and knowing hand. Kudos also to the first-rate designers who usually work on Broadway but must have known what a wonderful script they were helping to realize in the more intimate confines of the Atlantic: Santo Loquasto, whose set of overarching branches and deep rustic browns in the Darwin's backyard beckons us back to 19th Century England, Jane Greenwood who works her usual magic with the period costumes, and James F. Ingalls whose lighting design is so integral to the eery and lovely tone that the play casts over us.
Review (with rating) continued, AFTER THE JUMP…
And, ah, the cast Esbjornson has assembled. Michael Cristofer as Darwin is magnificent. He not only makes clear for us the giant intellectual capacity of the man at work, but also how such a capacity cannot camouflage the self-doubt that is even a deeper part of his being. As his wife, Bianca Amato, matches him emotion for emotion and together theirs is a kind of pas de deux of strained domesticity, especially when they must deal with the death of one of their children and how it plays out against the larger issues of survival and the churlish and innate uncharitableness of nature that Darwin's discoveries — and the play itself — addresses.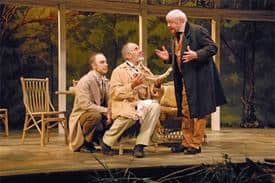 Neal Huff (who starred as the closeted movie star in the initial Second Stage production of Little Dog Laughed before, in the rather Darwinian process of a Broadway transfer, he lost the part to a no-more talented but bigger-named television actor) is marvelous as Darwin's protege, Thomas Henry Huxley. Huff is as sexy and glib and as glamorous as a 19th Century scientist could possibly be.
The rest of the cast is equally superb — especially Manoel Felciano who, with an eccentric sweetness, embodies not just Alfred Russel Wallace, the man whose name is the rather forgotten one that was paired with Darwin's on the initial essay presented to the Linnaean Society in 1858 stating their shared and concurrent theories of natural selection, but also embodies with his performance the incongruous essence of this play.
That incongruity is our capacity as humans to forgive and marvel and move forward — not because we are the most fit and therefore survive — but because we have souls which are so intricate that they cannot be mapped biologically by a naturalist (no matter how knowledgeable) but need the emotionally instinctive knowledge of, say, a playwright as perceptive as Parnell to do the mapping.
T T T 1/2 (out of 4 possible T's)
Trumpery, Atlantic Theater Company at the Linda Gross Theater, 336 West 20th Street, New York. Ticket information here.
(images: doug hamilton, broadway world)
Recent reviews…
On the Stage: Make Me A Song, The Music of William Finn and The 25th Annual Putnam County Spelling Bee [tr]
On the Stage: Bad Jazz [tr]
On the Stage: Things We Want and Peter and Jerry
On the Stage: Speech & Debate and Die Mommy Die! [tr]
On the Stage: Cyrano de Bergerac [tr]
On the Stage: Tom Stoppard's Rock 'n' Roll [tr]