James Stabile, the Dallas man who was basically kidnapped and brainwashed by Evangelicals organizing the "purity sieges" that have been going on in America's heartland (more on that here), talked to the Dallas Voice and apologized for his appearance on the 700 Club video that circulated on the internet and for perpetuating the idea that "ex-gay" therapy can work.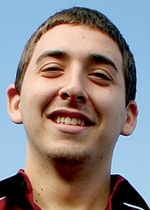 Said Stabile: "If I could, I would take back everything I've said. I've hurt a lot of people in the gay community, and I am truly sorry from the bottom of my heart. I'm not here to get any attention. I'm here to say to people that I want to help prevent other young gay guys from experiencing what I experienced, because I don't want them to be hurt, and I was hurt really badly."
Stabile said that he began to question whether he could be changed a few weeks into the Pure Life program. So he decided to pray for the answer.
Said Stabile: "I said,'God, am I going to be gay when I come out of here?' And he said, 'Yes.' I don't want to be gay, but I am gay, and because I'm gay, I'm going to have to accept it."
Stabile's father is the minister of the largest Methodist church in Dallas and accepts his son's sexuality, and does not believe it is a choice.
Ex 'ex-gay' recants [dallas voice]
Backstory…don't miss…
Gay Man Goes Through "Ex-Gay" Hell After Christian "Purity Siege" [tr]
Pat Robertson: God is Using I-35 to Rid USA of Gay Sin [tr]