Less than a week before the Christmas holiday I posted about an out-of-state group that had filed a motion to halt Oregon's new domestic partners law from going into effect on January 1st. They succeeded, at least for now, filing a suit against the State of Oregon and Secretary of State Bill Bradbury.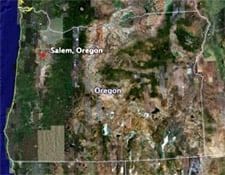 After falling 116 valid signatures short of the needed amount to place the measure on the 2008 ballot for a statewide vote, gay rights foes asked U.S. District Judge Michael W. Mosman to intercede on their behalf, saying that the verification process for the signatures is flawed and that citizens who had signed the petitions had been disenfranchised.
Mosman halted the domestic partner law, which would have given same-sex couples in the state all the rights enjoyed by heterosexual couples (aside from the "marriage" label), pending a February 1st hearing that would challenge the verification process.
Jeana Frazzini, of Basic Rights Oregon, told the AP: "It's unfair our families once again are bearing the brunt of this ongoing struggle."
Added BRO in a press release: "Our attorney believes that the judge demonstrated a fundamental misunderstanding of Oregon's initiative and referendum law. Basic Rights Oregon is appalled by this outrageous ruling, and we will continue to aggressively find opportunities to participate in the case as it moves forward, doing everything in our power to get caring and committed Oregon couples and their families the legal rights and protections they need."
Oregon Domestic Partnership Law Halted [ap]
Judge blocks law allowing civil unions [the oregonian]
Previously
Relocated Anti-Gay Activist Out to Halt Oregon's Gay Rights Laws [tr]