Sean Penn: The future Harvey Milk ends his 11 year marriage.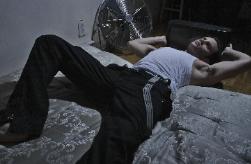 Penn Badgley: hot and bothered.

Censorship debate continues surrounding the BBC's dubbing, and then undubbing of the word "faggot" from The Pogues' Christmas tune "Fairytale of New York". Times Online: "The present consensus is with MacGowan – that there is nothing wrong with using the word 'faggot' in this context. Lighten up, you Milly Tants. My unfashionable counterview is that there is something very wrong in using it, that Radio 1 was right in its original decision and should have shown more balls and stuck by it. 'Faggot' is a term of anti-gay abuse; in this song it is most definitely an insult…To say that you're offended these days is to risk being accused of being humourless; of not getting the joke. It's the same risk you run as a woman who is offended by the endless parade of breasts in magazines such as Nuts. The new casual homophobia is couched as a perfectly acceptable, knowing joke, and coincides with a general feeling that gays have had quite enough equality: equal age of consent; civil partnership ceremonies (but not marriage). That we are getting a little too big for our boots."

First shots of Edward Norton as Bruce Banner in The Incredible Hulk.

Fashion designer and Project Runway contestant Jack Mackenroth talks to NYC's HX magazine about his reaction to Sarah Jessica Parker on the show and his cameo in the upcoming Sex and the City movie, among other things: "When I watched [the reaction] back I was like, 'I am so gay.' Which is fine. I embrace the gayness. I'm super-gay. I'm a big ol' queen…[The Sex and the City cameo] was completely unrelated. A friend of mine knew the person that was casting the extras, so he called me up and said they needed a gay guy with a good body, and I was like, 'Alright!' But she's super-nice and totally genuine. It was very painful for her to do the critiques because she doesn't like being mean."

Fans swarm Giorgio Armani as he visits his NYC Soho Armani Exchange store: "Everyone rushed him and started asking for autographs. It was mayhem."

Hello Kitty for Men, coming soon.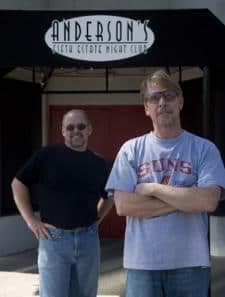 Scottsdale, Arizona bar owner converts to a gay nightclub after year-long dispute over the banning of a transgender patron: "Owner Tom Anderson (pictured on right, with co-owner brother Ted) said he made the transition in an effort to 'change Scottsdale.' The city saw a number of high-profile anti-gay and hate crimes this year, said Sam Holdren of Equality Arizona. Anderson made headlines last year when he banned a transgender woman from Anderson's Fifth Estate after female customers complained about transgender patrons using the women's restroom. The woman, Michele DeLaFreniere, filed a discrimination complaint with the Arizona Attorney General's Office."

A theory on Rednecks vs. Gay Marriage: "…if we are trying to explain (but not excuse) why the churchgoing divorcees oppose it, the answer is that they see homosexuality, married or not, as non-traditional. The churchgoing divorcees are not asserting their family virtue, logically conceived, but their family virtue as traditionally defined. It is the traditional definition of family virtue that prevails in the communities where the churchgoing divorcees are trying to ingratiate themselves, as a way to compensate for and cover their fractured family lives."