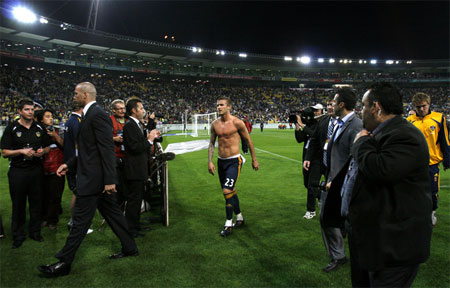 David Beckham's recent visit to New Zealand has inspired a flurry of online auctions featuring items that crazed fans have scavenged in the football player's wake.
The Herald Sun reports: "In an effort to attract bids, the seller notes on the Trademe online auction site that the bottle is still one quarter full. 'Mostly backwash I would imagine,' the seller says in answer to a query…Other goods up for sale include cutlery Beckham apparently used, and a photocopy of a signature Beckham made on the boarding pass he used while travelling from Australia to New Zealand."
Reserve has been met on a French Fry that he failed to gobble. Next bid: $5.00 The seller writes: "Warning, as this chip has been on the floor it is not suitable to eat only a souvenir."
Also available: A Coke bottle (with Coke left!) and Beckham's half-eaten corncob.
The corn cob is at $81!
And if anyone was wondering, CRAZY is also for sale, and apparently, free.