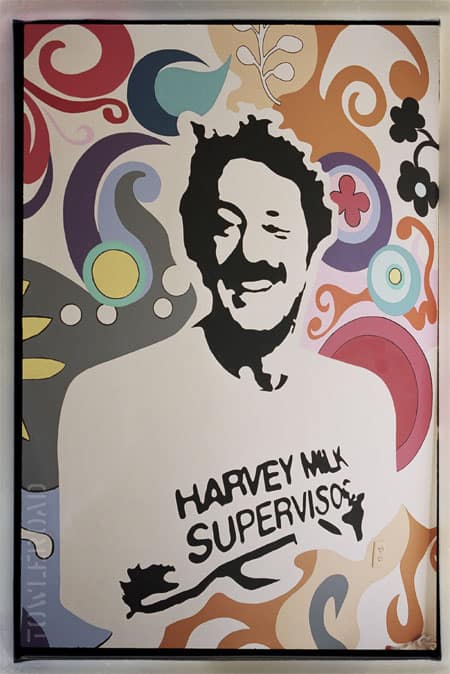 In 1972, when Harvey Milk moved to San Francisco, he and his partner Scott Smith (to be played by James Franco in the film), opened a camera shop, Castro Camera, at 575 Castro Street.
The address, of course, is still there today. In its place is an art and design-themed gift store owned by Nick Romero called GIVEN. But Harvey Milk has not been forgotten.
Romero commissioned a mural to be painted across the wall of the shop which would memorialize Milk. Romero is a Towleroad reader and wanted to share this us.
He writes: "I opened my store in February in this spot – which I was astounded to find had been vacant for almost a year. I signed a lease and got to work rehabing a really dilapidated space. It was kind of depressing to see the state in which Harvey's store had been left by the last tenant of 22-odd years. I had known this was his old store and thought the state of the vacant space as well as the fact that there was very little to commemorate the space was a tragedy, so I knew I wanted to really make something special."
When the store was finished in April, Romero decided to commission the mural. He writes: "I knew I wanted to do a mural of Harvey in our window, so I looked for an appropriate artist. I eventually came to find John Baden – a local painter who was introduced to me through a friend. He and I had some great ideas and ultimately collaborated on the idea for the piece. We finished it up in September and had a dedication ceremony to 'give' it to the neighborhood. Response has been overwhelmingly positive and many individuals who knew Harvey have expressed their satisfaction. It is highly visible and has become an attraction for tourists visiting the area already."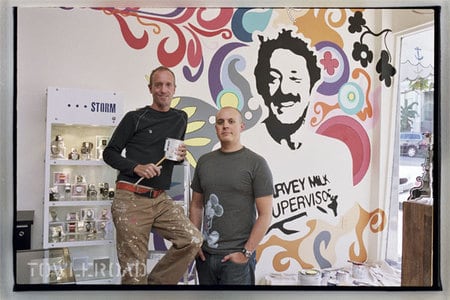 A photo of the full mural can be seen below. However, there is one element missing from the image in these photos, which changes it from what might be a violent image to one of empowerment.
It's Milk's most famous quote: "If a bullet should enter my brain, let the bullet destroy ever closet door." Milk knew his stance on gay issues made him a target, and tragically, his words were prescient.
According to Romero, "The words are shooting out of the gun." They've been added to the mural since these photos were taken.
In another historical twist, these photos were taken by Harvey Milk's former assistant Dan Nicoletta. Nick Romero is pictured above (in the Mickey Mouse shirt) along with the mural's painter John Baden. I'm sure he'd love it if you're in San Francisco, to come pay the store a visit. You can also visit it online.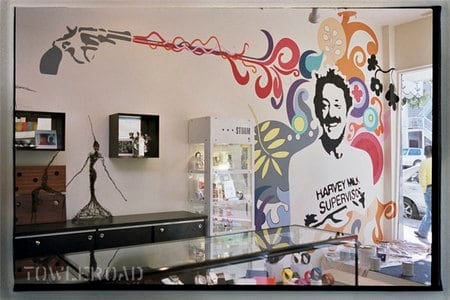 Finally, a bonus YouTube clip. It's the vigil held in San Francisco following Harvey Milk's assassination by Dan White, with a voiceover: Harvey Milk's last words. This is a clip that never fails to give me chills:
GIVEN [official site]
You may have missed…
Emile Hirsch, Josh Brolin, James Franco Sign on to Milk Film [tr]
Gus van Sant and Sean Penn are First to Spill Milk [tr]
Singer and Van Sant Vie to be First with Harvey Milk Film [tr]
Harvey Milk to get Bust at San Francisco City Hall [tr]
Vintage Gay Castro Images and Harvey Milk [tr]
Thank God for Harvey Milk [tr]