On Monday, I mentioned that The Cradle of Liberty Council, the Boy Scouts chapter in Philadelphia, was facing eviction from the building they have leased for nearly 80 years if they failed to meet a deadline to change its policies to meet nondiscriminatory language in its lease determined by the city's anti-discrimination ordinance. They failed to meet the deadline and will be evicted on June 1st. What a way to start Gay Pride month.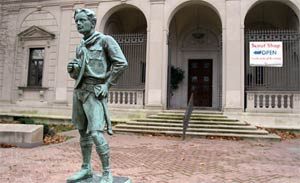 The Scouts have been leasing the building for $1 a year since 1928.
The New York Times reports: "Municipal officials said the clash stemmed from a duty to defend civil rights and an obligation to abide by a local law that bars taxpayer support for any group that discriminates. Boy Scout officials said it was about preserving their culture, protecting the right of private organizations to remain exclusive and defending traditions like requiring members to swear an oath of duty to God and prohibiting membership by anyone who is openly homosexual. This week the Boy Scouts made their last stand and lost. 'At the end of the day, you can not be in a city-owned facility being subsidized by the taxpayers and not have language in your lease that talks about nondiscrimination,' said City Councilman Darrell L. Clarke, who represents the district where the building is located. 'Negotiations are over.'"
Perhaps the city can fill the Beaux Arts building with a museum of tolerance.
Boy Scouts Lose Philadelphia Lease in Gay-Rights Fight [nyt]