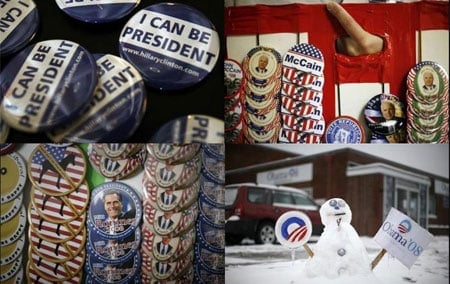 A selection of spots from the candidates.
HILLARY CLINTON: Is silence the new theme of the Clinton campaign?
RUDY GIULIANI: Guess how long it takes for him to mention 9/11?
JOHN EDWARDS: It's time for truth.
RON PAUL: He's a defender of freedom and a bigot too? Not a believer in the theory of evolution, however.
BARACK OBAMA: Unify.
MIKE HUCKABEE: Did he just say he could mess up 65 years of that kid's life? Here's also some additional commentary from Huckabee on Bhutto's assassination, in which he discusses the need for security on Pakistan's eastern borders with Afghanistan. Too bad there aren't any. He earlier gaffed by offering apologies for Bhutto's assassination. He has also been pleading poverty while accepting thousands of dollars to speak at churches.
JOE BIDEN: Takes us to the office.
CHRIS DODD: A new spot from the only Democrat who can claim a victory over Bush.
MITT ROMNEY: New attack ad on John McCain.
JOHN MCCAIN: Responds to Romney's attack ad.
BILL RICHARDSON: A plan for Iraq.
DENNIS KUCINICH: A holiday update from the Kucinich campaign.
WARNING: Playing all the videos at once may cause bipartisan ear bleeding.
Check out our previous guides to the Tube here
And finally, a BONUS after the jump: Barack Obama's high school hoop dreams.