Made in Brazil has posted an update on the brutal gay bashing in Rio de Janeiro I posted about the other day. A 15-year-old boy confessed to being one of the attackers.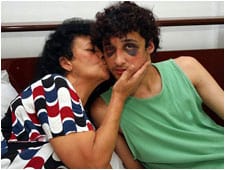 Made in Brazil reports: "According to O Globo Online, the minor was identified by three witnesses, and told the police that the bashing started because he thought Ferrucio was hitting on him. Two other suspects also reported to the police but denied any involvement on the case, even though one of them owns a motorcycle that fits a description from the witnesses. The suspects and the 15-year-old were let go.
The first reports of the incident said that the victim, 19-year-old Ferrucio Silvestro, had been approached by three middle-class boys in their early 20s who assaulted him as they yelled, "We don't want faggots in our neighborhood." They left him unconscious.
15-Year-Old Responsible For Gay Bashing [made in brazil]
Previously…
Ugly Gay Bashing in Rio de Janeiro [tr]