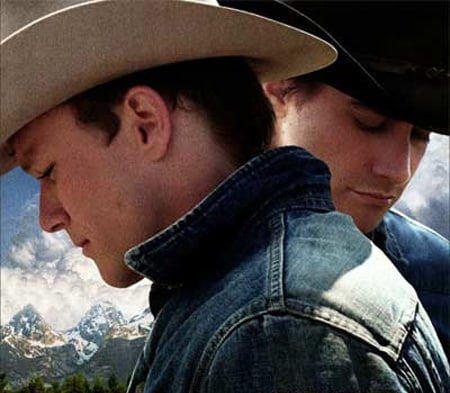 Actor Heath Ledger was found dead in a Soho Manhattan apartment this afternoon by his housekeeper.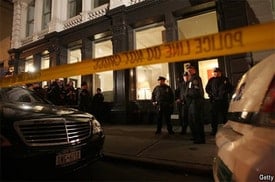 The NY Times reports: "At 3:31 p.m., according to the police, a masseuse arrived at the fourth-floor apartment of the building, at 421 Broome Street, between Crosby and Lafayette Streets in SoHo, for an appointment with Mr. Ledger. The masseuse was let in to the home by a housekeeper, who then knocked on the door of the bedroom Mr. Ledger was in. When no one answered, the housekeeper and the masseuse opened the bedroom and found Mr. Ledger naked and unconscious on a bed, with sleeping pills — both prescription medication and nonprescription — on a night table. They attempted to revive him, but he did not respond. They immediately called the authorities. As the news reports spread quickly, throngs of people gathered in the neighborhood."
TMZ clears up the initial report that Ledger had been found in the apartment of Mary-Kate Olsen: "A cleaning lady for Heath arrived at the apartment first, followed soon thereafter by a masseuse. They both entered the room at around the same time and discovered Heath's lifeless body. The cleaning lady called police. The masseuse, we're told, called the bodyguard for the Olsens. She called him because they're friends and he's an EMT. The bodyguard was around the block at Ashley's and he immediately went over. By the time he arrived, the cops were already there. We're also told it appeared Heath 'had been dead for a while' and there were no visible signs of trauma. There was a pill bottle on the nightstand."
UPDATE – Ledger had pneumonia? TMZ is saying they were contacted by a rep from Heath's family with this information: The cops told the family Heath's death was accidental and there is no evidence to support the buzz that he may have committed suicide. They are particularly distraught over media reports that he may have taken his own life. The family says he was not that kind of person. As we just reported, Heath was ill with pneumonia when he died."
Michelle Williams "devastated"…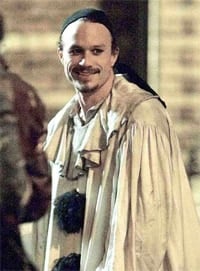 This is the last known photograph of Ledger while he was alive, taken on Saturday night on the London set of The Imaginarium of Doctor Parnassus.
Ledger will be remembered for his sensitive, Oscar-nominated work as Ennis del Mar in the groundbreaking film Brokeback Mountain. He was also nominated for a Golden Globe Award for Brokeback and won Best Actor awards from the New York and San Francisco Critics Circle.
Focus Features, producers of Brokeback, released the following statement: "Heath Ledger was a courageous actor, and a great soul. He gave us the gift of sharing his fearless and beautiful love —€" of his craft, and of all who worked with him —€" for which all of us will be eternally grateful."
Ledger most recently appeared as one version of Bob Dylan in Todd Haynes experimental biopic I'm Not There (pictured). He had completed work on the next Batman film as The Joker opposite Christian Bale.
I'm Not There's director Todd Haynes issued a statement as well: "This is an unimaginable tragedy. Heath was a true artist, a deeply sensitive man, an explorer, gifted and wise beyond his years. There is no finer person on this earth."
Ledger was just 28 years old.
More on this tragic story as it develops…
RELATED STORIES:
A November 2007 NYT profile: "He is here in London filming the latest episode of the 'Batman' franchise,'The Dark Knight.' (Mr. Bale, as it happens, plays Batman; Mr. Ledger plays the Joker.) It is a physically and mentally draining role — his Joker is a 'psychopathic, mass-murdering, schizophrenic clown with zero empathy' he said cheerfully — and, as often happens when he throws himself into a part, he is not sleeping much. 'Last week I probably slept an average of two hours a night," he said. "I couldn't stop thinking. My body was exhausted, and my mind was still going.' One night he took an Ambien, which failed to work. He took a second one and fell into a stupor, only to wake up an hour later, his mind still racing."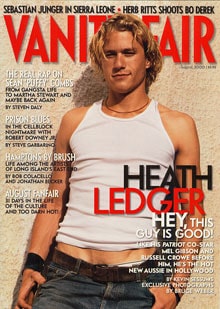 And here's a 2000 cover story Vanity Fair has just posted to their site, by our own Kevin Sessums, published just as Ledger's career was hitting its stride: "'When I act, I look at it as if I'm a mixing board in a sound studio. The pattern on the board is me. When I play a character, I go, 'I'll turn these knobs down and these ones up.' But in order to do that I have to know myself. I have to know myself like an instrument. I'm just a saxophone," he says, shrugging. 'I've always been very big on self-exploration and answering my own questions. For so many, it's hell growing up. But I guess I'm blessed. I've really enjoyed it. I don't let a lot get to me. I really don't. As I keep saying, I break everything down. Everything. I look up at those stars,' he says, pointing at the sky above the Vltava River, 'and go, 'There's no explanation for us to be here.' When anything is blocking my head or there's worry in my life, I just—whoosh—go sit on Mars or something and look back here at Earth. All you can see is this tiny speck. You don't see the fear. You don't see the pain. You don't see the movie industry. You don't see this interview. You don't see thought. It's just one solid speck. Then nothing really matters. It just doesn't.'"
Heath Ledger, Actor, Is Found Dead at 28 [nyt]