Fred Phelps' Westboro Baptist Church and his band of haters plan to picket the funeral of actor Heath Ledger, because of his involvement in Brokeback Mountain.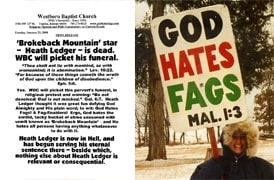 In a news release, the church wrote: "Yes. WBC will picket this pervert's funeral, in religious protest and warning: "Be not deceived; God is not mocked." Gal. 6:7. Heath Ledger thought it was great fun defying God Almighty and his plain word; to wit: God Hates Fags! & Fag Enablers! Ergo, God hates the sordid tacky, bucket of slime seasoned with vomit known as 'Brokeback Mountain' – and He hates all persons having anything whatsoever to do with it. Heath Ledger is now in Hell, and has begun serving his eternal sentence there – beside which, nothing else about Heath Ledger is relevant or consequential."
The Kansas-based ministry was recently ordered to pay $11 million to the father of a slain U.S. soldier for picketing at the funeral of his son. Westboro Baptist claims that the deaths of U.S. soldiers in Iraq and Afghanistan are God's wrath against a nation that tolerates homosexuality.
Previously
Court Unseals Financial Records of Westboro Baptist Church [tr]
Westboro Baptist Church Thumbs Nose at $11 Million Judgment [tr]
Slain Soldier's Father Awarded $11 Million in Westboro Baptist Case [tr]