Gays and lesbians in Washington state ask for divorce rights: "Supporters of the legislation unveiled Tuesday say it seeks to provide financial security for same-sex couples by establishing community property rights, probate protections and joint responsibility for debts. Murray, who is one of a handful of openly gay lawmakers in Olympia, say gays and lesbians seek not only the protections, 'but we are also asking for the responsibilities that go to marriage.' Senate Bill 6716 and House Bill 3104 also would provide domestic partners end-of-life rights, nursing-home visitation, veterans benefits and spousal testimonial privileges that married couples enjoy."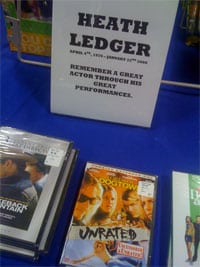 Best Buy quickly takes advantage of Heath Ledger's death: "A small sign, created by the company's finest 1998-era laser printer, informs its customers that they should 'Remember a Great Actor Through Great Performances', tastefully suggesting that customers — who may not have even been aware of his passing — grieve the only way they know how: By reliving the romantic hijinx that is 10 Things I Hate About You."

Tina Turner and Béyonce to duet at the Grammys.

Matt Foreman to resign from National Gay & Lesbian Task Force, to lead Gay & Lesbian Program at the Evelyn & Walter Haas, Jr. Fund: "I will always love the Task Force, our work, our board, and our staff. Having served for 18 years as the executive director at three LGBT organizations, I'm incredibly privileged to be able to continue to work in and for the movement in a new role at the Haas, Jr. Fund. I have no doubt that the Task Force will continue to be the uncompromising progressive voice of the LGBT movement and to thrive and help lead our community to complete equality."

Republican Fred Thompson drops presidential bid: "Today I have withdrawn my candidacy for President of the United States. I hope that my country and my party have benefited from our having made this effort. Jeri and I will always be grateful for the encouragement and friendship of so many wonderful people."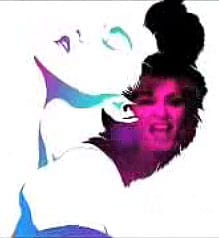 Madonna, Marilyn Monroe, and Shakira team up for Super Bowl commercial.

In new online game, user assumes role of presidential candidates and then shoots his or her opponents in the halls of the White House: ". While the ammo is paintball, the game on the highly trafficked miniclip.com site allows kids to train a rifle scope on six presidential aspirants and squeeze off a hail of shots (which are accompanied with a rat-a-tat sound). The game, 'Presidential Paintball,' features six candidates in the crosshairs: Barack Obama; Hillary Clinton; John Edwards; Mitt Romney; John McCain; and Rudy Giuliani (it seems the game was developed before the ascension of Mike Huckabee). If a candidate wins a head-to-head confrontation, he/she advances to a new shootout, which occurs in various White House settings, including outside the Oval Office."

Brad Renfro had a son nobody knew about.

Galveston, Texas opens LGBT visitors center.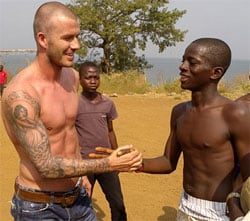 David Beckham makes UNICEF trip to Sierra Leone.

New poll reveals attitudes toward gay people and sex in Britain: "18 percent of those surveyed consider gay relationships are always wrong, while 32 percent see homosexual sex as always or mostly wrong. Moreover, four in 10 people (42 percent) think gay male couples are not as capable of being good parents as heterosexual ones — although three in 10 (31 percent) believe they are."

Sydney lawmakers begin dealing with the homophobic violence issue that plagues their city: "We're not blaming any specific person for this, but violence is obviously a complex issue and we need to be using all opportunities to raise it. It's got to be policies on the ground. Clearly the local council needs to work with police, but there's a real role for it in changing what that entertainment precinct is used for. It's quite a different place during the evening than during the day time. We support the measures to bring back the shops people need – fruit and veg, butcher, etc."