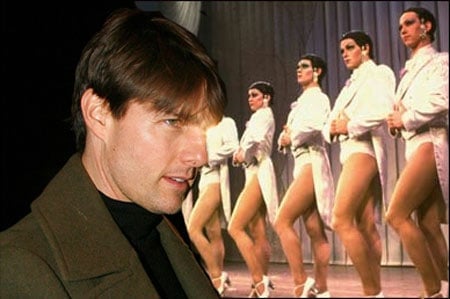 Slate scoured Andrew Morton's new unauthorized biography of Tom Cruise and picked out the good parts. The book is said to put to rest the notion that Tom Cruise is gay, so let's see what Slate found:
"Tom tried to impress [high school flame] Nancy [Armel] by taking her to the Broadway musical La Cage aux Folles, but he 'was unaware of the story line—about two gay men living together in St. Tropez.' According to Nancy, 'he couldn't handle it. We had to leave before the intermission. It really bothered him. He was definitely homophobic.'"
There you have it. Case closed.
A few more of their gems:
"Armel…also remembers fooling around in a parked car. She told Morton: 'I was black and blue from the gearshift.'"
"Tom was uncomfortable around gay men. Those who saw him in the company of some of Nicole [Kidman's] gay friends, who included designer John Galliano, noticed that he was awkward and ill at ease, much preferring the company of jocks who talked about football rather than fashion."
"High-school girlfriend Diane Van Zoeren doesn't give any credence to the 'Tom is gay' rumor: 'I don't get it. I find these stories just hard to believe. We romanced in my dad's Oldsmobile doing what you are not supposed to.'"
The Condensed Tom Cruise [slate]
You may have missed…
Morton Tell-All Claims Tom Cruise is Scientology #2 [tr]