Will Daly, a student at Florida's Stetson University, who felt he was the target of threatening graffiti placed around the living areas of his dorm, shocked students by leaving the university and transferring to a culinary school. Before he did so, however, he secured $10,000 so that Judy Shepard could come speak to the school and raise awareness about hate crimes.
The News-Journal reports: "Daly said the incident — and how the university handled it — are the main reasons for his departure. Students and faculty, just now returning to campus for the spring semester, are stunned. 'This is terrible for Stetson,' philosophy professor Susan Peppers-Bates wrote in an e-mail Thursday. 'Will has been a strong and active presence on this campus combating homophobia.' Wilson called herself heartbroken and added: 'I hate for a student who brought so much to the community to be a casualty of such nonsense.' Last month, the student newspaper, the Stetson Reporter, dubbed the vandalism a 'hate crime.' The story also reported that one of Daly's suite mates, who is also gay, was targeted a week later. The student, who Daly said preferred to use him as a spokesman, had been in the laundry room and returned half an hour later to find someone had written 'Death to FAGS' in permanent marker on the wall. Although Daly contacted the residence hall director the morning he discovered the graffiti, it took a week for the metal door to be fixed and repainted. 'The lack of support, the university's response . . . really made my decision for me,' he said."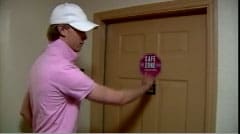 The school cites a "communications breakdown" as the reason for the delay in the repair. Its students and faculty have responded, however:
"Last month, the Student Government Association passed a bill designed to add 'hate speech' as an offense in the student code of conduct. University administrators and student leaders started work on the revision this week, student government President Drew Glasnovich said. There is also a 'safe zone' initiative, where faculty and staff are putting stickers on their office doors to show gay, lesbian, bisexual and transgender students they are supportive and willing to talk about any concerns a student might have."
Judy Shepard is scheduled to speak at the campus on January 23rd.
Stetson 'hate crime' victim arranges lecture on bigotry [daytona beach news-journal]
Stetson Student Targeted For Homosexuality [wesh]