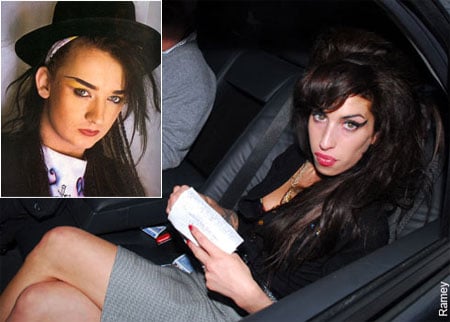 Boy George, who kicked off his first British tour in 10 years last night, said he relates to Amy Winehouse because they both spent time at the same police station and she reminds him of an earlier version of him:
"I love Amy Winehouse. My favourite thing was seeing her going into Shoreditch police station (in connection to a bribery plot) because that's where I was nicked. It's obviously the pop star cop shop. She looks as it she should be in 'Hairspray', the pencil skirt, the beehive, always slightly dizzy. She reminds me of myself in the early days of Culture Club. She really inspired me to sing again. For me, the measure of a great singer is whether they make me cry. I love George Michael's voice but he never made me cry. Amy makes it sound effortless, but she's not faking it. It comes down to a complete package, feeling it, doing it, living it."
I guess I do see what he's talking about.
Previously
Boy George Comes Out of Hiding [tr]
Boy George: I Wanted to Hide Under a Rock, I Was Mortified… [tr]