New York City department of health eyes bathhouses after new report on increase in HIV infections in men under 30.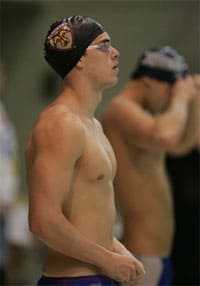 Scott Jordan, swimmer at conservative, religious St. Bonaventure University comes out to teammates: "'Scott, you're gonna get so much ass this year,' [one teammate] said to me. 'The girls are gonna be all over you.' I took the plunge. 'That's not the kind of ass I'm looking for,' I replied…He didn't believe me at first; In fact, most everyone I've come out to hasn't believed I'm gay. But once he realized I wasn't joking around, I told him it wasn't a secret anymore. I told just three teammates that summer, purposely telling one teammate in particular because I knew he liked to gossip (yep, straight guys gossip too). As planned, gossip took care of the rest. When I got to school a month later it felt like the entire campus knew I was gay, and I had only told three people."

Mariah Carey squeals about possible duet with J Lo: "I'd rather be on stage with a pig."

Carson Kressley's How to Look Good Naked debuts higher than any other reality show in Lifetime's history.

Patrick Dempsey just stands there for Versace.

UK man convicted of two counts of assault for homophobic attack on straight teen in nightclub.

California fringe group grades GOP candidates on their support for the "natural family". Huckabee and Paul rate highest, Romney scores a "0".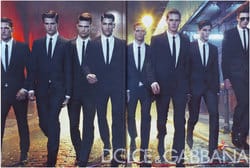 Dolce & Gabbana lines 'em up for Fall/Winter campaign.

Swimsuit issue: Owen Wilson and Woody Harrelson frolic in Hawaii.

Gay nightclub proposed in Madison, Wisconsin would be one of city's largest.

Philly anchorwoman Alycia Lane, suspended for calling a police officer "dyke bitch," was relieved of her duties: "'Alycia Lane "has been released from her contract effective immediately,' KYW-TV said in a statement Monday, the day she had been due back on air. Lane is accused of scuffling with a plainclothes female officer during a traffic dispute last month. A police complaint also said she used a sexual slur. Lane has denied the allegations. The 35-year-old newscaster previously found herself the target of critical news coverage, and snickers, after it was reported she had e-mailed bikini shots of herself to a married ESPN sports anchor and she tearfully discussed her divorce on the 'Dr. Phil" show.'"

EAT ME: Woman commissions wedding cake in her own image.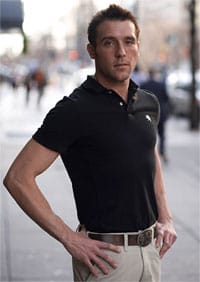 USA Today takes a look at "Don't Ask, Don't Tell" 60 Minutes Army Sergeant Darren Manzella: "Manzella says he was invited to join more than 600 members of an invitation-only MySpace group, Guys and Gals Like Us, for gays who don't hide their orientation from their units. The members use pseudonyms because some gay servicemembers have been discharged for acknowledging their sexual orientation elsewhere online. Nearly 12,000 troops have been dismissed under the policy approved by President Clinton in 1993. Discharges peaked at 1,273 in 2001 and have fallen sharply since the war began. 'A lot of servicemembers are getting 'wink-wink' treatment from their commanders,' says Aaron Belkin, director of the Palm Center at the University of California, Santa Barbara, which studies the policy."

Last year we winner flattered to win Queerclick's Gay Bloggies – this year, Frank at OMG Blog took the prize. Congrats.

Gay-friendly gay bashed in Seattle.

Vermont opponents of same-sex marriage step up their efforts: "Several prominent opponents of gay marriage will announce at a Statehouse press conference Tuesday morning the formation of the Vermont Marriage Advisory Council, a group that will hold hearings on the benefits of traditional marriage. Stephen Cable of Rutland, the founder of the conservative group Vermont Renewal, said the formation of this traditional marriage council is in response to what he says is the pro-gay marriage leanings of the Vermont Commission on Family Recognition and Protection. 'The council will be holding forums to delegate information on the social goods that come with the institution of marriage,' Cable said Monday afternoon. 'After that, the council will open up the microphone to hear from Vermonters.'"