As demonstrators from Westboro Baptist Church picketed outside the Screen Actors Guild awards with signs reading "Heath's in Hell," inside Daniel Day-Lewis accepted his award for Best Actor for his performance in There Will Be Blood, and dedicated it to Heath Ledger:
"There are many actors in this room tonight including my fellow nominees who have given me that sense of regeneration. Heath Ledger gave it to me. In Monster's Ball, uh, that character that he created seemed to be almost like an unformed being retreating from themselves, retreating from his father, from his life, even retreating from us, and yet we wanted to follow him and yet were scared to follow him almost. It was unique, and then of course in 'Brokeback Mountain' he was unique, he was perfect. And that scene in the trailer in the end of the film is as moving as anything I think I've ever ever seen."
Backstage, Day-Lewis said: "I thought he was beautiful. I just had a very strong feeling I would have liked him very much as a man," he said. "I admired him very much. I'm absolutely certain he would have done many wonderful things in his life. We should leave him alone and we should leave his family alone to suffer their unimaginable grief in private, and it's not going to happen," Day-Lewis said backstage. "We should just stop encouraging people to have greater and greater interest in raking over every detail, which is none of our business anyhow."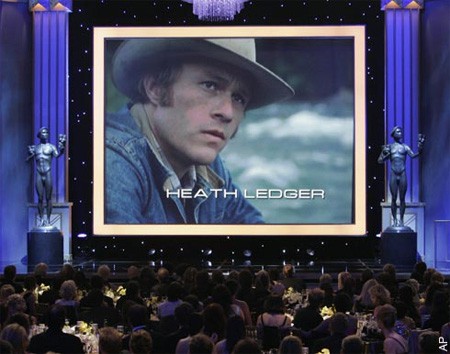 Ledger's photo was the final image presented in the night's In Memoriam tribute as well. Reports also began to emerge over the weekend that the actor's death may have been from natural causes because of low levels of toxicity in his blood. These reports are unconfirmed.
Full list of SAG Award winners after the jump…
Movies:
Actor: Daniel Day-Lewis, "There Will Be Blood."
Actress: Julie Christie, "Away From Her."
Supporting actor: Javier Bardem, "No Country for Old Men."
Supporting actress: Ruby Dee, "American Gangster."
Cast: "No Country for Old Men."
Stunt ensemble: "The Bourne Ultimatum."
___
Television:
Actor in a movie or miniseries: Kevin Kline, "As You Like It."
Actress in a movie or miniseries: Queen Latifah, "Life Support."
Actor in a drama series: James Gandolfini, "The Sopranos."
Actress in a drama series: Edie Falco, "The Sopranos."
Actor in a comedy series: Alec Baldwin, "30 Rock."
Actress in a comedy series: Tina Fey, "30 Rock."
Drama series cast: "The Sopranos."
Comedy series cast: "The Office."
Stunt ensemble: "24."
___
Lifetime Achievement: Charles Durning