As you probably know by now, Barack Obama handily won the South Carolina primary on Saturday, beating Senator Hillary Clinton with 55% of the vote to Clinton's 27%. John Edwards received 18% of the vote.
Above, Obama's acceptance speech, which has winning plenty of praise over the weekend.
Obama got a symbolic Democratic endorsement over the weekend from Caroline Kennedy, in an op-ed piece in the
New York Times, to be followed today in a one-two punch to Clinton by an endorsement from Massachusetts Senator Ted Kennedy.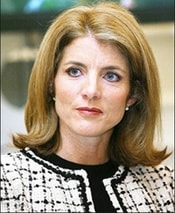 Said Caroline: "My reasons are patriotic, political and personal, and the three are intertwined. All my life, people have told me that my father changed their lives, that they got involved in public service or politics because he asked them to. And the generation he inspired has passed that spirit on to its children. I meet young people who were born long after John F. Kennedy was president, yet who ask me how to live out his ideals. Sometimes it takes a while to recognize that someone has a special ability to get us to believe in ourselves, to tie that belief to our highest ideals and imagine that together we can do great things. In those rare moments, when such a person comes along, we need to put aside our plans and reach for what we know is possible. We have that kind of opportunity with Senator Obama."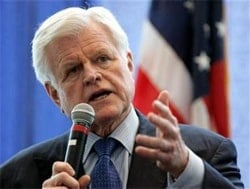 An associate of Ted Kennedy told the Boston Globe the reasoning behind the Senator's move to Obama: "Kennedy believes Obama can 'transcend race' and bring unity to the country, a Kennedy associate told the Globe. Kennedy was also impressed by Obama's deep involvement last year in the bipartisan effort to craft legislation on immigration reform, a politically touchy subject the other presidential candidates avoided, [Kennedy's] associate said. The coveted endorsement is a huge blow to New York Senator Hillary Clinton, who is both a senatorial colleague and a friend of the Kennedy family. In a campaign where Clinton has trumpeted her experience over Obama's call for hope and change, the endorsement by one of the most experienced and respected Democrats in the Senate is a particularly dramatic coup for Obama."
Senator Kennedy will reportedly make his endorsement at a rally today. Kennedy's endorsement comes despite "a last-ditch effort over the last few days" from the Clinton campaign, according to Politico.
Meanwhile, Bill Clinton, who campaigned heavily for his wife in South Carolina, seemed to ignore calls to leave race out of the contest on Saturday when he declared "Jesse Jackson won South Carolina in '84 and '88. Jackson ran a good campaign. And Obama ran a good campaign here." (clip below)
The Clinton campaign was said on Sunday to be "reeling in" the former President: "Campaign officials, without acknowledging any faults on Mr. Clinton's part, have said they will change tactics and try to shift Mr. Clinton back into the role he played before her loss in the Iowa caucuses, emphasizing her record and experience and steering clear of criticizing Mr. Obama."