Of course the second part of that headline is simply wishful thinking, but that's how it looked after Novak Djokovic defeated Jo-Wilfried Tsonga in the Australian Open over the weekend to win his first tennis Grand Slam title and become the first Serbian tennis player to achieve such heights in tennis.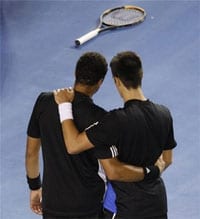 Agence France Presse reports: "His victory was the first Grand Slam final since the 2005 Australian Open not won by Roger Federer or Rafael Nadal with the top-ranked pair dominating the game, claiming the last 11 majors between them. 'I am so proud of myself and to be the first Serbian who won the Grand Slam title,' said Djokovic, who eclipsed Jim Courier as the youngest men's winner at Melbourne Park. 'I was trying to stay there with Jo because I knew that sooner or later with my style of the game I could get in control of the match, which I did in the middle of the second set. Today I was nervous on the start because I was in the strange situation of being the favorite in the final of a Grand Slam. It was dangerous, but I managed to cope with the pressure well and to win.' Djokovic and Tsonga rocked the established order by dumping Federer and Nadal out in the semi-finals to set up a decider unimaginable at the start of the tournament."
We look forward to seeing much more of Djokovic in the future.
Previously
Novak Djokovic Upsets Roger Federer to Head into Aussie Open Final [tr]
Sportrait: Jo-Wilfried Tsonga [tr]