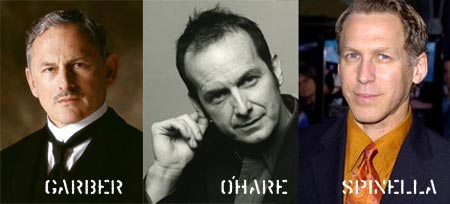 I have some exciting news to report regarding Gus van Sant's Milk film starring Sean Penn as slain gay rights pioneer Harvey Milk, which begins shooting in San Francisco next week.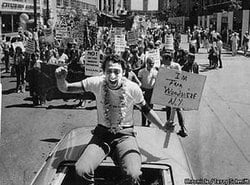 Towleroad has learned exclusively from Focus Features that Broadway, film and TV veteran Victor Garber (Titanic) has signed on to play Mayor George Moscone, who was shot and killed by supervisor Dan White just moments before White took Milk's life as well.
Tony-award winning actor Denis O'Hare (Charlie Wilson's War, Michael Clayton, Brothers & Sisters) has been cast as State Senator John Briggs who sponsored Proposition 6 (the Briggs Initiative), the 1978 measure that would have banned gays and lesbians from teaching in California's public schools. Milk was instrumental in the battle against The Briggs Initiative and his success in defeating it made him a figure to be reckoned with in California politics and the emerging gay rights movement.
Finally, veteran Broadway, film and TV actor Stephen Spinella (Angels in America) has signed on to play Milk's gay District 5 political rival, attorney Rick Stokes. Milk defeated Stokes, in his fourth attempt at becoming supervisor, after the Castro was given its own voting district.
The three veteran actors join an accomplished cast led by Penn. Josh Brolin (No Country for Old Men) is set to play assassin Dan White, Emile Hirsch (Into the Wild) has been cast as gay rights activist Cleve Jones, a close ally of Milk's who went on to found the NAMES Project AIDS Memorial Quilt. James Franco (Spider-Man 3) will play Scott Smith, Milk's lover and campaign manager.
San Francisco Supervisor and former teacher Tom Ammiano has been cast as himself in the film.
Last week, I reported that preparations were already well underway by the Milk team to transform San Francisco's Castro district back to the way it was in the 70's by performing a cosmetic facelift that would return classic gay bars like Toad Hall to their original sites.
Recently
Singer's Harvey Milk Film in Jeopardy as Van Sant's Gains Steam [tr]
Gay San Francisco Supervisor Tom Ammiano to Join Milk Film [tr]
Castro Street to Undergo "Time Warp" for Milk Biopic [tr]
Exclusive: Inside Harvey Milk's Castro Street Camera Shop Today [tr]
Emile Hirsch, Josh Brolin, James Franco Sign on to Milk Film [tr]