Daniel Yakovleff, a 20-year-old hair stylist living in Boston, was last seen leaving the Eagle bar on Wednesday night before he was found early Thursday morning stabbed to death in a multi-family home (not his own) in the city's Dorchester neighborhood.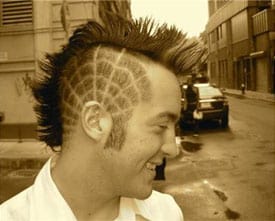 According to the Hartford Courant, homicide detectives are investigating:
"In Ashford (Massachusetts), Yakovleff's distraught family is struggling to understand what happened, while also planning a memorial service to remember the outgoing, trusting and talented young man they loved. 'It's a parent's worst nightmare,' said Nord P. Yakovleff, Daniel's father. A Boston homicide detective declined to comment Sunday night, but the Boston Globe reported Friday that police don't consider Yakovleff's killing a random act because there was no sign of forced entry to the apartment. It was not Yakovleff's apartment, his family said Sunday night. 'I have a million questions,' said Damon Yakovleff, 22, Daniel's older brother. 'Whose apartment was it? How did he get there?'"
Although he lived in Boston for the last two years, Yakovleff's family wondered if his rural upbringing did not prepare him for life in the city: "'He trusted someone he shouldn't have,' his father said, adding that police have told the family they are looking at a person of interest in connection with their son's death. Damon Yakovleff said his parents have expressed concern to him that police will not take the crime seriously because his brother was gay. The family also has heard talk from some of Daniel Yakovleff's friends of predators targeting gay people in Boston."
Anyone with information can contact Boston police at 617-343-4470 or call CrimeStoppers anonymously at 1-800-494-8477.
Family Seeking To Cope With Youth's Death [courant]
In Memory of Daniel A. Yakovleff [queer today]
Daniel Yakovleff Dead, Media Coverage No Where To Be Found [live, love, learn]