Video and photos shot by TMZ show undefeated New England Patriots QB Tom Brady wearing a protective boot and brace over his right foot and walking with a slight limp less than two weeks before Super Bowl XLII.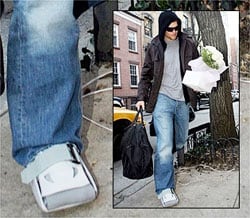 The extent of Brady's injuries is unclear. In his weekly appearance on WEEI's 'Dennis and Callahan' radio show, Brady was asked about his leg but told the hosts, "Ah, you know, there's always bumps and bruises. I'll be ready for the Super Bowl. I'm not worried about that. I'm not missing this one. I'd have to be on a stretcher to miss this one. There will be treatment this week. In games like this, you get a little nicked up. It's nothing serious."
UPDATE: Brady boot-free at Butter!
You may have missed…
The Tom Brady Mancrush Song [tr]
Tom Brady's First Beefcake Shot [tr]
Tom Brady and the Art of the Bulging Brief [tr]
Tom Brady Offered $1 Million to be Calvin Klein Underwear Stud? [tr]
Tom Brady for Stetson [tr]
Sportrait: Tom Brady [tr]