Indiana Senate votes 39-9 to ban same-sex marriage: "The amendment now goes to the House, where it died last year and where it's stalled again this year. State Rep. Scott Pelath, D-Michigan City, the chairman of the House Rules and Legislative Procedures Committee, which was assigned the bill, has already said he will not give it a hearing because this session's focus is on property taxes."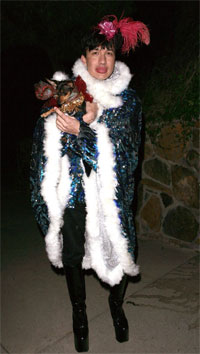 Someone commit him: Ambulance-chasing Bobby Trendy holds Britney vigil outside UCLA medical center.

Elton John holds fundraiser for gay London mayoral candidate and former top cop Brian Paddick.

California same-sex marriage foes relaunch drive for constitutional amendment: "Signature gatherers have been spotted by people out in the field, [Geoff Kors, executive director of Equality California] told the Bay Area Reporter Tuesday, January 29. He said the measure's supporters have raised over $350,000 so far, and he said signatures are being collected in the Sacramento and Central Valley areas, as well as in Southern California. Kors said there isn't "extensive visibility" yet and that he wasn't aware of signatures being gathered in the Bay Area. Kors said the anti-gay groups need about 1.1 million signatures by April 21 in order to collect the nearly 700,000 valid signatures needed to put the measure before voters. Kors said he and others just learned of the group's efforts last week, and are working to develop plans of their own."

Gray January: NYC gets no snow for first time in 75 years.

Carson Kressley on Carson Kressley: "I can't say what people are thinking, but I'm never going to defend my actions as being one way or another. I defend them as me being me. If I say I was being stereotypical and I do what "shouldn't" be stereotypical, then I'm living my life for somebody else and I'm marching to the beat of somebody else's drummer, and that, I think, is a worse thing."

The case for Katie Holmes faking the NY Marathon.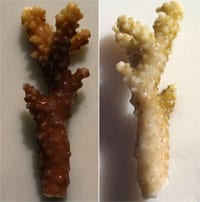 Researchers: Human sunscreen killing off coral reefs around the world. "Four commonly found sunscreen ingredients can awaken dormant viruses in the symbiotic algae called zooxanthellae that live inside reef-building coral species. The chemicals cause the viruses to replicate until their algae hosts explode, spilling viruses into the surrounding seawater, where they can infect neighboring coral communities. Zooxanthellae provide coral with food energy through photosynthesis and contribute to the organisms' vibrant color. Without them, the coral "bleaches"—turns white—and dies…The researchers estimate that 4,000 to 6,000 metric tons of sunscreen wash off swimmers annually in oceans worldwide, and that up to 10 percent of coral reefs are threatened by sunscreen-induced bleaching."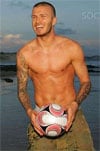 More Becks on the beach photos.

Rufus, Rufus, Rufus: Victoria Beckham isn't the only one appearing naked on those new Marc Jacobs T-shirts.

New York City comptroller William Thompson leads anti-discrimination charge with the LGBT Community Center and the New York City Pension Funds, calling on more than two dozen large companies including ExxonMobil to ban discrimination based on sexual orientation and gender identity: "We must work together to make sure that corporate America embraces acceptance and affords all employees the same protections…"

New York Post endorses Barack Obama.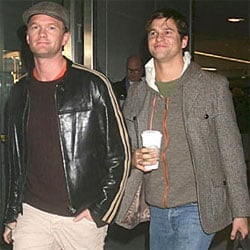 Neil Patrick Harris and David Burtka to duet for Broadway Backwards 3, the gender-bending concert of show tune favorites benefiting the Lesbian, Gay, Bisexual & Transgender Community Center.

Hundreds of Pennsylvania students sign petition to force administrators to take on anti-gay bullying: "The petition circulated after an openly gay senior student left school halfway through the year, claiming he was repeatedly harassed by fellow students. Superintendent David Volkman says the district has formed a new committee to look at the issue. He says the school is already looking at ways to reinforce its harassment policy, and has created 'safe rooms' for students who would like to talk with teachers about the issue."

Europe's first gay old folks home fully booked.

New York's Gay City News endorses Obama: "The McClurkin episode, unfortunate as it was, pales in comparison to the divisiveness that Senator Clinton has allowed her campaign to devolve into. Her comparison between the roles played by Dr. King and President Lyndon Johnson in advancing civil rights can be chalked up to inartfulness. The comments coming from her surrogates are far more disturbing, forming a pattern that sadly can no longer be ignored."