Former Houston Mayor Louie Welch, whose political career was brought to an end by a homophobic comment heard over a television microphone, has died of lung cancer.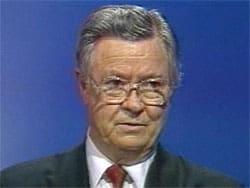 The Houston Chronicle reports:
"After unsuccessful mayoral bids in 1952 and 1954, Welch was elected mayor for the first time in 1963. Welch was mayor in 1967 when two days of battles erupted between police and students at predominantly black Texas Southern University. A police officer was killed, and about 500 Texas Southern students were arrested. The events created a rift between the administration and many of the city's blacks. Years later, Welch acknowledged that accusations of racism still bothered him. 'It hurt,' Welch said. 'It still hurts to be accused of racism. It's just a bum rap.' In 1973, he did not run for re-election, joining what was then the Houston Chamber of Commerce. But he came back in 1985 in an attempt to take the mayor's job from Kathy Whitmire. He lost the race after saying on an open television microphone that one way to stop the spread of AIDS was to 'shoot the queers.' He made the remark without realizing the microphone was on. Some gays responded with T-shirts that sported the slogan: 'Don't shoot, Louie!' After losing to Whitmire, Welch said he had lost 'the instinct to fight in the rough and tumble that campaigns have become.'"
Welch was 89.