I've written a few posts about the national traveling memorial and exhibition, Gay American Heroes, that is in the process of coming together. I'm pleased to present a video featuring the project's founder Scott Hall, which is going to be shown at a benefit for the foundation happening this Saturday at Therapy in NYC from 5:30 to 8. Proceeds of the event will be used to build the traveling, educational memorial exhibition.
This is the first time the above video has been shown.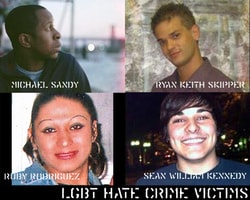 Hall and the project's founders explain the philosophy behind the project's name: "The Gay American Heroes Foundation believes that all people who live honestly about their sexual orientation or gender identity are heroic, as it takes great strength and courage to face the daily struggles for personal freedom in the face of enormous opposition; to ultimately lose their life for said freedom makes them heroes."
Elke Kennedy, mother of Sean William Kennedy (picture, lower right — I've posted quite a few times about his death and her dignified and brave response to it) is the main speaker at the New York event. Also speaking will be Alan Cumming, Romaine Patterson (friend of Matthew Shepard), Chip Arndt, and Scott Hall.
Also attending this weekend in New York will be Survivor winners Ethan Zohn and Jenna Morasca.
Since its formation, many big names have stepped up to lend their help to the project, including Cyndi Lauper. Says the singer: "Gay American Heroes is an important and moving tribute to the lives lost to hate and violence."
Serving on the Honorary Board: actor Chad Allen (from Dr. Quinn, Medicine Woman), Sgt. Eric Alva, former professional baseball player Billy Bean, Unity Coalition of Miami Dade Executive Directors Ron Brenesky and Herb Sosa, actor Alan Cumming, Executive Director of the National Gay and Lesbian Task Force Matt Foreman, US Rep. Barney Frank, Queer as Folk's Robert Gant, Ana Gasteyer, Iman, Reichen Lehmkuhl, columnist Billy Masters, activist/politician David Mixner, Christopher Rice, Daniella Sea, media director at GLAAD Monica Taher, and myself.
Full details on event AFTER THE JUMP…
Gay American Heroes [official site] (warning: AUDIO)
The event this Saturday is open to the public for a $40 donation to benefit the project and foundation, which also includes participation in GAHF's Adopt-A-Hero Program. Complimentary hors d'oeuvres courtesy of Therapy, a 2-4-1 draft beer and well drinks and $2 discount on call and top shelf.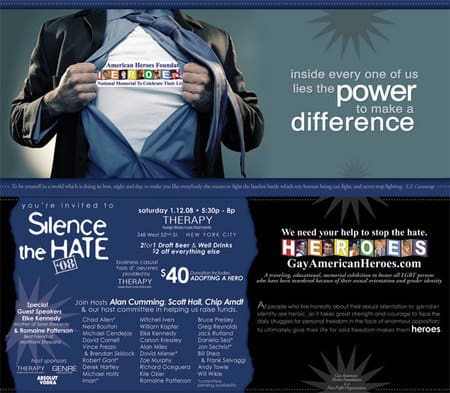 CLICK TO ENLARGE…
The Los Angeles benefit will be held on January 26 at East/West Lounge at 8851 Santa Monica Blvd. in West Hollywood from 3-7 pm. Confirmed to attend that event are former pro basket ball player John Amaechi and The L Word's Daniela Sea.
You may have missed…
Exclusive: National Memorial for LGBT Hate Crime Victims Launches [tr]