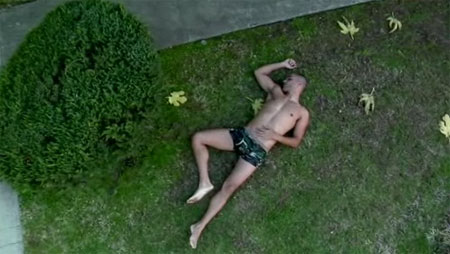 In an effort to generate discussion about AIDS prevention and reach gay men online, the L.A. Gay & Lesbian Center is producing 12 "webisodes" focusing on the sex lives of a group of gay men in West Hollywood. Each is five minutes in length and is intended to stimulate discussion, via an online forum where viewers can comment on various issues raised by each episode of the online mini-soap opera.
The first "webisode" called "So Many Choices" depicts situations related to hooking up online, heavy drinking, and unsafe sex. In the online forum, the webisode's characters ask questions about their behavior specifically addressing those issues.
The City of West Hollywood provided funding to produce the first episode, which contains content probably too provocative for most government programs.
Said Susan Cohen, director of the Center's Health Education and Prevention Department: We're grateful the City of West Hollywood has funded this initiative, through our WeHoLife.org program, to promote healthy living among those who live, work and visit West Hollywood. Of course, we know it also has the potential to stimulate safer sex discussions among anyone with a computer and we will be monitoring web traffic, with the hope that we can secure funding for the remaining 11 webisodes."
VIEW the first episode, AFTER THE JUMP (warning NSFW)…

"So Many Choices" — (warning NSFW)
Visit In The Moment online to comment on this video and read what others have written in the forum.
As it seems their site may be having some bandwidth issues, here's the episode on YouTube.
Jim Key, Chief Public Affairs Officer at The Center, told me: "We're blending digital, scripted entertainment—in the form of sexy gay 'soap operas'—with online forums to stimulate discussions regarding real-world sexual situations many gay men face today. Traditional HIV prevention programs – social marketing campaigns, condom distribution, discussion groups, etc. – just aren't as effective at reaching young gay men. Fewer young gay guys are part of the 'bar culture,' so outreach efforts are more difficult than they used to be and even fewer are interested in coming to discussion groups intended to promote safer sex. Most young gay men are, however, online frequently and enjoy online video, so we intend to reach them 'where they are.' We think this is especially important given some recent alarming stats regarding the HIV infection rate among gay youth. New York City health officials recently reported that new HIV infections among gay and bisexual men, under the age of 30, rose 32% between 2001 and 2002."
In the Moment [weholife.org]