L.A. Times columnist asks why The Kite Runner, and its controversial boy-rape scene wasn't included in the GLAAD awards. Maybe because sexual orientation had nothing to do with it.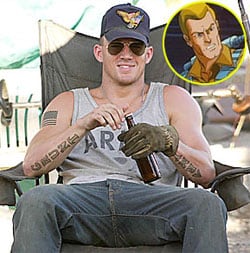 Channing Tatum recruited for GI Joe film: "The 27-year-old modern-turned-actor will play Duke, a field commander and second-in-command of the G.I. Joe Team after Hawk. Other actors signed on: Sienna Miller as The Baroness, Adewale Akinnuoye-Agbaj (Lost) as Heavy Duty, Rachel Nichols (Alias) as Shana 'Scarlett' O'Hara and Marlon Wayans as Ripcord. Joseph Gordon-Levitt (3rd Rock From the Sun) is also in negotiations to join the project."

Randy Lovely promoted to editor of The Arizona Republic, making him the nation's only openly gay editor of a major U.S. newspaper: "Lovely says he has never hidden his sexual preference, but is not among the most outspoken gay rights activists. 'There are many others who are much more involved. I support them, but I am not on the leadership,' he says of his NLGJA membership. 'I have not had to be anything other than what I am. I can't be the one to tell anyone they have to be out. But it is not something I am afraid of.'"

New York meatpacking staple Florent, which I did a long photo piece on two years ago, may be closing…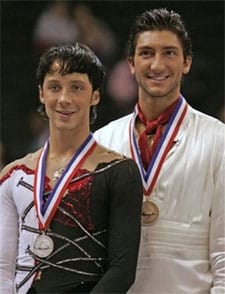 Johnny Weir ties with Evan Lysacek at the U.S. Figure Skating Championships but Lysacek wins for skating better in the free skate: "First place, second place, last place, I'm just happy with the way I skated. I was so nervous, and it's fantastic vindication to know I came back and didn't completely fall apart. I feel like a winner."

Keith Olbermann would trade personal success for a decent president: "I think this has been a disastrous presidential administration. I would have given what I have, in terms of broadcasting success in the nature of this newscast, I would have easily said…if I were given the choice of this or some responsible presidency in the last four years or eight years? I would have taken a responsible presidency."

Gay ordained Presbyterian minister Brian Webb-Mitchell shares tips for gay parents in new book: "I wrote the book because there was nothing out there that was pro-gay, pro-child, pro-family and pro-Christian. The books that dealt with gay parenting and Christianity were not very pro-Christian. If anything, they steered people toward the United Church of Christ and away from Catholic and Evangelical churches."

Adrian Grenier brings along his own little entourage.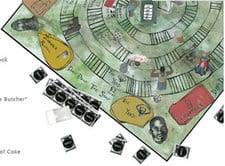 New board game created by son of Kansas Governor Kathleen Sebelius and U.S. Magistrate Judge Gary Sebelius set inside a prison is called "Don't Drop the Soap": "Fight your way through 6 different exciting locations in hopes of being granted parole. Escape prison riots in The Yard, slip glass into a mob boss' lasagna in the Cafeteria, steal painkillers from the nurse's desk in the Infirmary." And whatever you do, avoid those gays in the shower room!

"Pro-family" conservatives in Arkansas launch drive to stop unmarried couples from adopting or becoming foster parents. Jerry Cox, president of the Arkansas Family Council Action Committee: "Anyone who tells you that this initiated act is only about gay adoption is not telling you the whole story. Anyone who will tell you, though, that gay adoption has nothing to do with this act wouldn't be telling you the whole story, either."

Sundance Film Festival winners announced…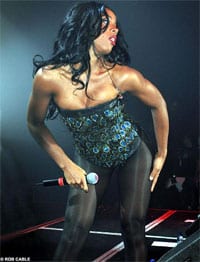 Work: Kelly Rowland is proud as a peacock at G-A-Y.

Gay Miller Brewing executive Vic Milford shot and killed in Milwaukee robbery: "'At this time, this is a company grieving the tragic loss of one of its dearest employees,' [a Miller spokesman] said, in a statement. 'The immediate impact of this loss is being felt most by the family and friends of Vic Milford. And out of respect for the Milford family, we believe our attention is best served by caring for those most affected by this horrible tragedy.' Milford, a citizen of South Africa, had lived in Milwaukee since taking the Miller Brewing job in February 2005, Green said, and previously worked for SABMiller since 2002. Milford is survived his parents, who are residents of Zimbabwe, a sister in Australia and a man described as Milford's life partner, who lives in South Africa, according to a Miller statement."

Carol Channing is a robber magnet!

Gay Vermont legislator Jason Lorber moonlights as a stand-up comic: "When I first came here, people said 'You're the first comedian to come to the Statehouse.' I say 'I'm the first PROFESSIONAL comedian to come to the Statehouse'…Politics is about changing society and trying to make the world a better place. And performing makes me feel so alive. I love the creative aspect of it…Growing up, I never pictured myself being with a gay guy. Now, I've come to realize that I could never be happy being with a straight guy."

L.A. Times columnist: FOX News host John Gibson should lose his platform over Heath Ledger remarks.