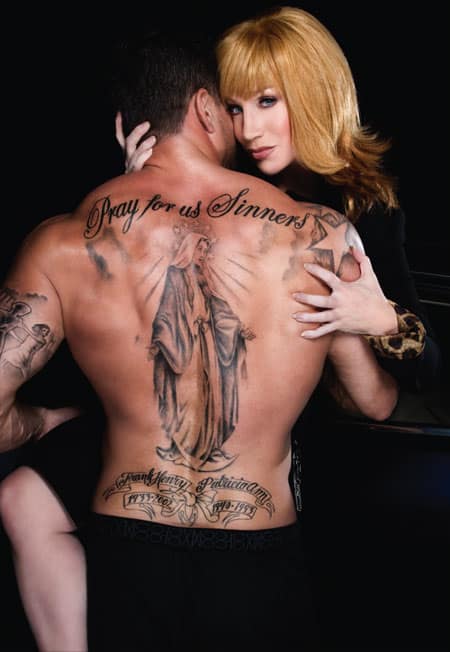 Remember that Kathy Griffin Advocate "cover try" she showed off on her appearance on Jimmy Kimmel. Well, that shot didn't make the cover of the mag's 'Hollywood issue'. Instead, that was reserved for a Britney-style thigh-spreader.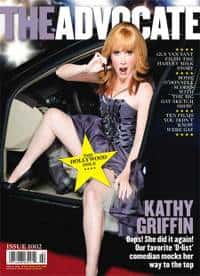 Of the shoot, Griffin told Kimmel:
GRIFFIN: This is what's called a "cover try". Being on the D-List, they won't just put me on the cover, so they told me I was a "cover try" so I may or may not end up on the cover but I love this photo shoot because it's airbrushed beyond belief, which is key, but it's me also just hugging a hot gay guy. And, uh…
KIMMEL: Is he gay, the guy?
GRIFFIN: I think so! The only straight guy who has that body is in prison and not at a photo shoot. But the photographer…has hooked me up with this gorgeous guy who coincidentally had this tattoo, and you know, me, shaking it up with the Jesus people is perfect.
While the interview holds little that you won't find in one of her shows (even writer Corey Scholibo had difficulty catching her at a non-"on" moment), the interview captures several anecdotes I hadn't heard before, including this one about the time Griffin met Liza Minnelli after a gig in Canada.
Griffin: "I knocked on her hotel room door. She opens it up. The room's pitch black. She's chain-smoking in bed. I getin the bed with her like Michael Jackson, and we watch The Asphalt Jungle. There was a guy who had been at the restaurant the night before — he's one of these guys who seemed completely gay to me but had the hot girlfriend. I said to Liza, 'Did you get a gay vibe from that guy, or is it me?' She goes, 'How would Iknow? Look whoI married.'"
Above is a video clip featuring Griffin and cover photographer Mike Ruiz. A bit of 'behind-the-scenes' footage. (warning: language NSFW)
Read part of the interview here.
In related news, Griffin reportedly made CNN anchor Anderson Cooper blush at her recent Madison Square Garden gig, according to Page Six: "Sporting a baseball cap (his attempt at going incognito) and a polo shirt that granted everyone access to the gun show, Anderson squirmed in his seat as Kathy likened him to a 'yummy panini' that she wanted to let drip from her mouth.
My Life on the Gay List [advocate]
Previously
Kathy Griffin's Advocate "Cover Try" on Jimmy Kimmel [tr]