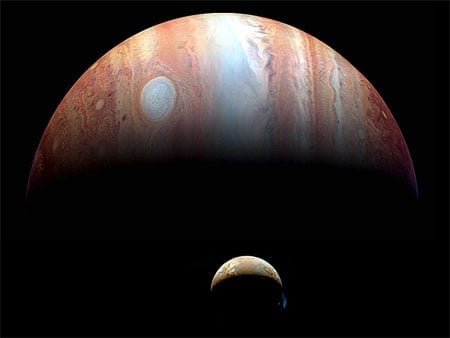 I love this composite of Jupiter and its moon Io recently released by NASA, although I have to say it does remind me of those velvet posters from the 70's that are meant to be put under black light so they glow. Cool nonetheless.
NASA's description: "In February of last year, New Horizons passed Jupiter and the ever-active Jovian moon Io. In this montage, Jupiter was captured in three bands of infrared light making the Great Red Spot look white. Complex hurricane-like ovals, swirls, and planet-ringing bands are visible in Jupiter's complex atmosphere. Io is digitally superposed in natural color. Fortuitously, a plume was emanating from Io's volcano Tvashtar. Frost and sulfuric lava cover the volcanic moon, while red-glowing lava is visible beneath the blue sunlight-scattering plume. The robotic New Horizons spacecraft is on track to arrive at Pluto in 2015."
Here's another related image of Io and its volcano that I posted in December.
It was also reported yesterday that during a service mission to the Hubble Space telescope scheduled for August 2008, astronauts would upgrade the equipment: "The repairs, along with the addition of two new instruments, will make Hubble 90 times as powerful as it was after its flawed optics were corrected in 1993."