Man who sued over same-sex marriage question on Massachusetts bar exam apologizes: "I'm an Irish immigrant to this country. And you know, it's hard to ignore the fact that all communities into America are first discriminated against and attacked before eventually being accepted. In hindsight I see the parallels in the discrimination that were once felt by the Irish in this country, and to a large degree it's opening up my mind and my heart to want to stop the discrimination that the gay community is confronted with. Because you know it happens to all of us at one point or another; but we have a tendency to have collective amnesia and we forget about it."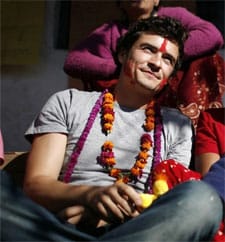 Orlando Bloom gets high on Nepal.

Research team finds proteins that could be used to stop HIV: "A research team announced yesterday that it has identified about 270 human proteins that the AIDS virus apparently needs to infect a person, instantly providing researchers with dozens of new strategies for blocking or aborting HIV infection. The vast majority — more than 200 — were not previously known to play a role in the complicated choreography by which the virus attaches to a cell, enters it, gets copied and establishes permanent residence. The discovery was made with a technique called a 'genome-wide scan,' which is only a few years old. Current AIDS drugs work by interrupting one of four main steps in HIV's life cycle. The new study suggests that there are many more to target."

Sir Edmund Hillary, first to scale Mount Everest, dies at 88. Graphic illustrates his rise to the top. And here's a Google Earth tour.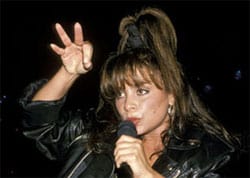 REPORT: Paula Abdul set to cast Super Bowl spell…

British Museum exhibit opens with major focus on Roman Emperor Hadrian's homosexuality: "His first move, within hours of coronation, was to withdraw his troops from Mesopotamia, now Iraq, and fortify the empire's boundaries by building his eponymous wall in northern England and others in the Danube and the Rhine valleys, ushering in a new era of peace. The reign that followed can be traced through 200 ancient treasures, many of which have never been display in Britain. Several of the artefacts relate to his male consort, Antinous, who accompanied him on his travels around the empire. These items include a poem written on papyrus, featuring the two men hunting together, and new finds that include memorials to the dead lover at Hadrian's villa in Tivoli. Although it was not uncommon for his predecessors to have taken gay lovers alongside a female spouse, Hadrian was unique in making his love "official" in a way that no other emperor had before him."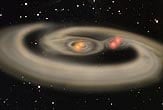 Quartet of stars discovered swirling around one another in an area the size of Jupiter's orbit.

Adios: Britney Spears flees to Mexico with paparazzo boyfriend.

Chicago-area teen continues battle to wear anti-gay T-shirt to school: "Twice, Neuqua sophomore Alexander Nuxoll of Bolingbrook has filed for an injunction that would suspend "the school's policy that allows speech in favor of homosexual conduct, but bans speech critical of homosexual conduct," said his attorney, the Alliance Defense Fund's Jonathan Scruggs. And twice now courts have denied that request. Now, Nuxoll and his legal counsel are set to seek an appeal of these decisions."

Rodrigo Santoro hangs 10…

Figure skating champ Christopher Bowman dead in potential drug overdose.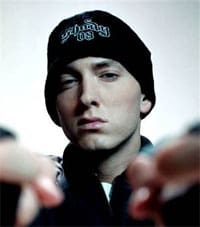 Eminem turning into fat Elvis, says mom: "The rapper has been living in a constant state of depression, cut off from human contact while he eats massive amounts of food. Reportedly well on his way to obesity at the rate he's going, the 5 foot 7 rapper currently weighs in at approximately 203 pounds and was hospitalized over the Christmas holiday for possible heart problems as well as pneumonia. Suffering from insomnia, Eminem has taken to ordering in–mostly Mexican food and filet mignon–often paying for himself and his entire entourage."

Colton Ford and gay rapper Cazwell in new video.

Paris Hilton targeted for Scientology by Tom Cruise?

Hustlers in South Africa target gay man after having sex with him on the beach.