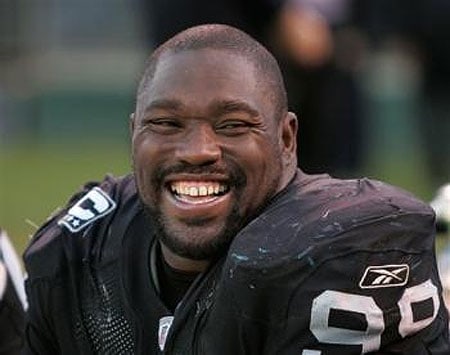 At the end of December during his second-to-last game, Oakland Raiders defensive tackle Warren Sapp, who announced his retirement on Thursday after 13 years in the NFL, was fined $75,000 for a confrontation with officials which led to his ejection from the Raiders-Jaguars match-up.
In discussing the incident with Sports Illustrated, Sapp unearthed a euphemism, which up till now I hadn't heard before.
Said Sapp: "It was something that was really, really on the edge of like, gay porn. When it's real bad football, that's what we call it: gay porn. Something you just don't want to watch. Something you just don't want to see on TV. Something you don't even want to talk about. That's gay porn."
That said, I've changed my mind and I'm hoping Tom Brady and Brett Favre play a lot of real bad football in the playoffs.
(via deadspin)
UPDATE: I've been told that Sapp's "gay porn" comments may be about a year old, something not noted in the deadspin or realests posts. So, of course, it's entirely possible he may have grown comfortable to taking it in by this point.
You may have missed…
Sportrait: Brett Favre [tr]
Tom Brady's First Beefcake Shot [tr]
Ringing in 2008 with Brady Quinn [tr]
Sportrait: 2007 Heisman Award Hotties Tim Tebow, Darren McFadden, Colt Brennan, and Chase Daniel [tr]