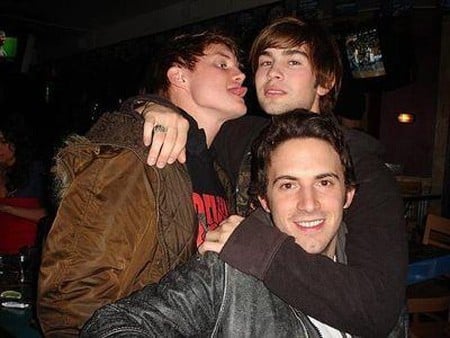 Hey Upper East Siders, Gossip Girl's Chace Crawford posted some old photos on his MySpace page of Chace and his friends and Covenant co-stars (Taylor Kitsch, etc) having a gay ol' time, which have sent tongues wagging (so to speak) across the blogosphere.
Aside from their questionable titillation value, the photos demonstrate nothing except that Crawford may have once had his ear cleaned by another man, and that he really liked that white cowboy hat from his pre-Gossip Girl photo shoot.
You may have missed…
Caucus Break: Chace Crawford Swimsuit Issue [tr]
The Many Pre-Gossip Girl Faces of Chace Crawford [tr]
Also accompanying the photos was a special message, which you can read AFTER THE JUMP…
"Whats up Everyone?
So I have been checking this as much as i can but have not had time to respond to all the messages and comments you ask! I do appreciate every single comment and keep them coming! Anyways you guys asked questions and Blake has told me to make a blog of answers, when I'm freee.. My favorite color is Midnight Blue, My hometown is plano, TEXAS
I love a girl who loves Animals, I'm very unpredicatble! I'm a big texter! I rather just eat fast food and chil at home! My best friend is Taylor Kitsche, I love keeping everything simple cause i'm a simple kind of guy. Something i miss about home is going to my Grandparents Lake house in the summer. It was the highlight of my high school. I'de cruise around water on Jet skies, than drive around the country at night.
Everyone always ask what do i think about the cast. I love every single one of them, and I currently live with Ed Westwick (chuck from GG)We love to catch concerts at Central Park, and we spend our downtime watching football game.
I am not dating Blake or Leighton, they are both beautiful girls, but we are close friends. As of now, I am ready for a girlfriend. Alright, thats all i have time for right now, I hope you enjoyed that and Have a good day!
Chace Crawford"
(a few more shots at source)